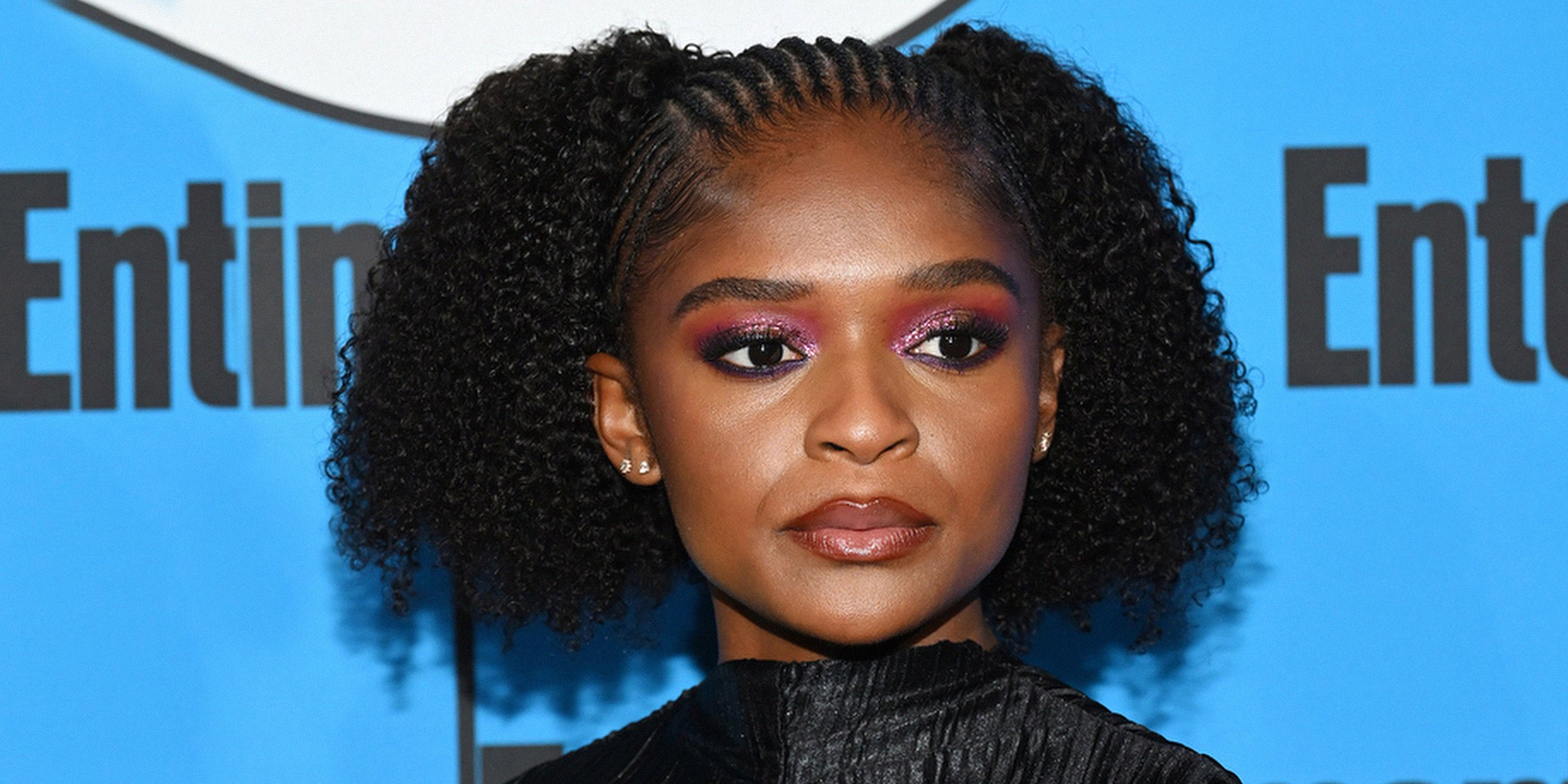 Dominique Thorne, 2022 I Source: Getty Images
Who Is Dominique Thorne? Facts about the Actress Who Plays Ironheart in 'Black Panther: Wakanda Forever'

Dominique Thorne is an American actress who landed a role as Ironheart in "Black Panther: Wakanda Forever." There are numerous interesting Dominique Thorne facts, including the rising star's other appearances.
Dominique Thorne is only in her twenties, but the actress has already proven that she's one of Hollywood's rising stars to look out for. One of her known roles is in the popular film "Black Panther: Wakanda Forever."
She has also displayed her acting skills in other roles over the years. Her blossoming career has led to much interest in the 25-year-old's life and her other skills in the entertainment industry.
Who Is Dominique Thorne?
Dominique Thorne was born in Brooklyn, New York. She grew up with her parents, who migrated from Trinidad to the U.S. Despite growing up in America, Thorne's parents ensured their daughter remained connected to her Caribbean roots. Her personality shows her roots and can easily make one think she was raised in Trinidad.
Thorne and her family have always considered education very important, which is why she's very learned and obtained an Ivy League education. She had a few options when it was time for her to further her education after graduating high school.
She had always wanted the best education, so she chose to study at Cornell University after weighing her options. She obtained a bachelor's degree in policy analysis and management at the university.
Thorne's mom and dad, Nerissa and Navie Guy, are from Carapichaima and Mayaro, respectively. She's not an only child and has two younger siblings. Her brothers are Caleb and Ky-Mani.
She spoke about her family and roots in 2020. Thorne revealed that most of her family members, including her cousins, live in Trinidad. She said only her immediate family lived in America, and "at least 90 percent" of her other loved ones still reside in Trinidad.
The actress's family relocated to Delaware, and Thorne said she keeps in touch and speaks with her family daily. She also shared that she communicates with her parents' Trinidad and Tobago friends, whom she grew up with in the same neighborhood and who have become like family.
Beginning of Her Career
Dominque Thorne's fantastic talent has already been recognized, as she has earned accolades in her career. She became the National YoungArts winner for spoken theater in 2015.
She also bagged the United States Presidential Scholar in the Arts award. It selects a young man and woman from each state who show artistic excellence, leadership, and community service.
And that's not all. Thorne also performed in the MCC Theater's Youth Company's annual show, "Uncensored." Her other notable job as an actress was co-writing and performing in "19th Century Gazelle," displaying a piece about her heritage.
When Thorne was growing up, she didn't wish to pursue a career in acting, but when she went to high school, she realized she wanted to try it. She talked more about it during an interview with News Day in 2020. Thorne said:
"I just felt like I should apply for a performing arts high school. To this day, I don't know where that thought, impulse, or desire came from."
Most people around her didn't support her decision. She mentioned that many people tried to talk her out of her decision; however, the performer said she was "so set on it."
Dominique Thorne Filmography
Dominique Thorne has appeared in several movies, including 2021's "Judas and the Black Messiah" as Judy Harmon and Riri Williams in "Black Panther: Wakanda Forever" in 2022. She will appear again as the character in the upcoming film "Avengers: Secret Wars."
The one role she's known for is as Sheila Hunt in the 2018 film "If Beale Street Could Talk." She spoke about the movie in 2018 and said it was "amazing" that it got "recognized in such a way."
Thorne praised the writers of "If Beale Street Could Talk" as the story touched on various themes that remain relevant, like "family, love, trust, and justice." She also said the writer, James Baldwin, did an excellent job of bringing humanity into these different themes and the characters in a story.
About "Ironheart" Role
Dominique Thorne spoke with Empire in March 2021 about how she got the role in the series "Ironheart." Thorne said she got a call home in Delaware asking her if she wanted the part.
Thorne said the way it happened shocked her as it wasn't the most usual way to get a role in a movie or series. She explained that it was "the best phone call" she had ever received.
She stated that she thought they would ask her to send a tape for an audition, but none of that happened. However, she said she was given the role, and it was the "most unique experience I've ever had because there was no audition at all."
Thorne has often spoken about her roles, and one of them that she opened up about was playing Riri Williams in "Ironheart." Regarding the character, Thorne shared in October 2022 how much she loves her and expressed excitement at playing a part in the popular series. She said she was fascinated that she's "fully herself."
She further noted that the character is not the kind of superhero everyone is used to; she's no "typical or traditional superhero." Thorne said Riri Williams puts being a 19-year-old student first in the series before being Ironheart, which she has to figure out.
Another actress who appeared in "Black Panther: Wakanda Forever" is Letitia Wright. Thorne's co-star has also made a name for herself in the industry and has featured in other top films.