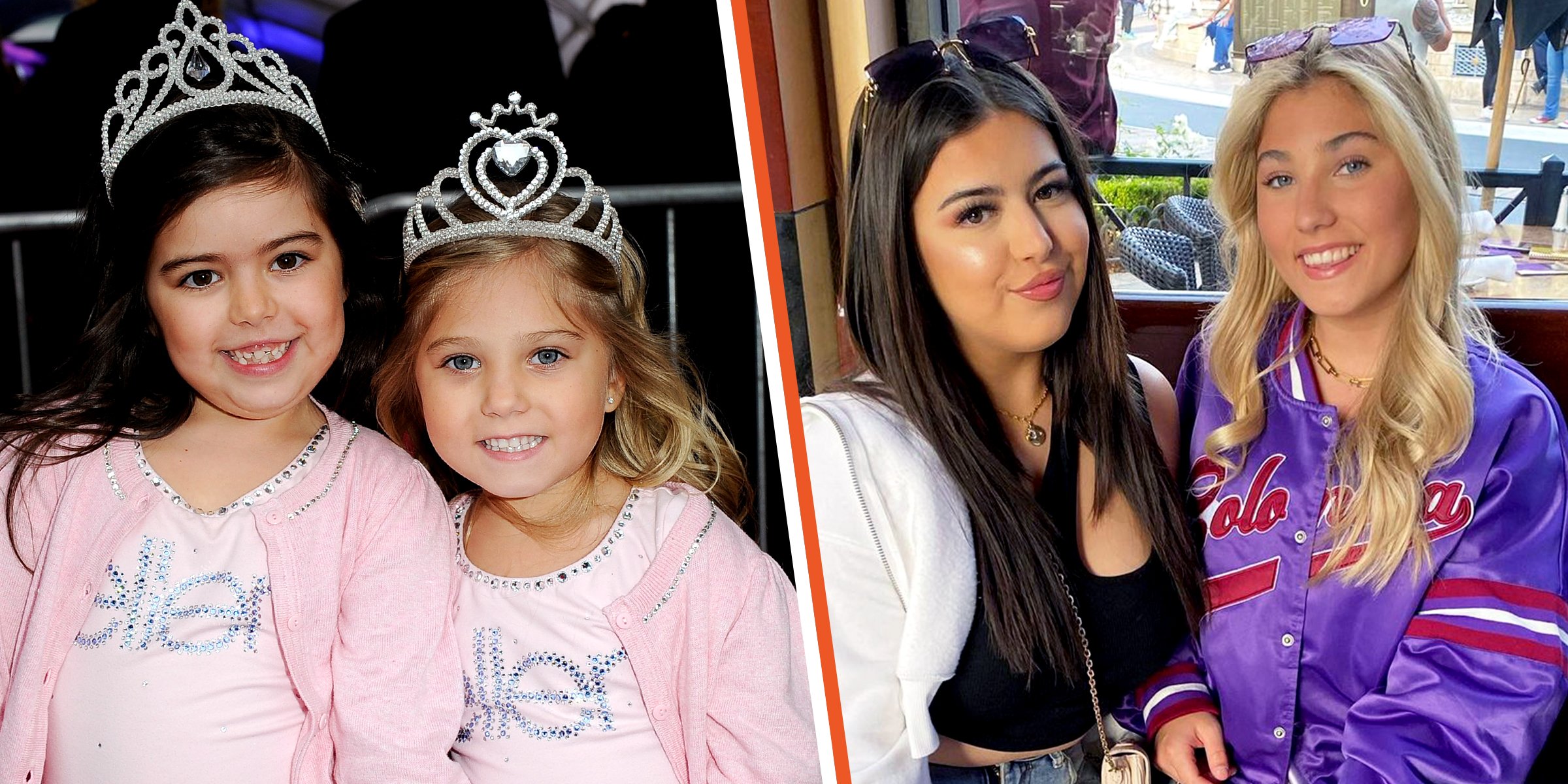 Sophie Grace and Rosie | Source: instagram.com/rosiergm | Getty Images
Sophia Grace Brownlee and Rosie Now — The 'Ellen' Star Is Pregnant and Has Her Cousin's Support

Although it has been about a decade, fans of "The Ellen Show" will always remember the English girl who performed a duet with her cousin to one of Nicki Minaj's hit songs. Today, many are asking where is Sophie Grace and Rosie now. While the former is gearing toward motherhood, her cousin, Rosie, still supports her.
Sophia Grace and her younger cousin, Rosie, have been best friends since childhood. The relatives, originally from England, are as thick as thieves; interestingly, they share similar talents!
The girls became an internet sensation after they cheekily performed a Nicki Minaj song shot in the confines of their home.
Soon, they were invited to "The Ellen Show," and they gained unforgettable fame. Through the years, the cousins have grown and expectedly have different lives, but they have remained united.
Sophia Grace, 19, is prepping for an important journey that will change her life forever. She will be a mother soon, and Rosie, still her plus one, is throwing in her full support.
Sophia Grace Was 'Very Shocked' When She First Found Out about Her Pregnancy
Sophia Grace is still in love with music, but she is famous primarily for creating interesting content online and has amassed many followers.
Earlier in the year, the girls were back to where they started, "The Ellen Show," which made them more recognizable. Ellen introduced them as one of her memorable guests, jokingly adding that they look grown while their parents appear the same.
In October 2022, the social media influencer and YouTube Vlogger shared her pregnancy news with her fans. In the YouTube video, she wore a casual sleeve top and had her brunette hair drool past her shoulders.
Fans caught a glimpse of her glammed-up face spiced with an infectious smile as she sat in front of a balloon-themed backdrop.
Sophia Grace explained that she was twenty-one weeks pregnant and did not want to let the cat out of the bag sooner because she wanted to be certain of her safety.
The expectant mom confessed that she was shocked at first but has gotten used to her pregnancy, adding that she is "super excited" and felt like sharing the great news with her fans.
Although she already knows the gender, Sophia Grace maintained that it would remain a secret until she releases a different video. In her words:
"I'm not going to give anything away about the gender. However, I am going to do a gender reveal for you guys in a separate video…so make sure you watch out for that."
The Influencer asked fans to comment with their thoughts, adding that they must keep it positive, as she would ensure to delete the negative comments.
Expectedly, the comment section was filled with congratulatory messages, and a few viewers took a trip down memory lane, agreeing that the Vlogger had made their childhood. One person quipped:
"This is such a beautiful moment for all of us, especially those of us who grew up with you. Congratulations!"
Rosie Cries in Anticipation
Another heartwarming comment and person who is delighted about the news is none other than her best friend and cousin, Rosie. Despite being three years younger, she maintained a close relationship with her older cousin.
The same day Sophia Grace shared the news with the world, her cousin uploaded an adorable photo showing them as they shared a tight hug in Essex, England. The caption read:
"This photo was the moment Sophia told me she was pregnant (as you can see I am crying) Congratulations to my beautiful cousin Sophia on the news of your pregnancy! To say I'm excited is a understatement, I can't wait to share this whole new chapter with you and be by your side watching you be the best mum ever! Love you so so much."
Following the shared post, hundreds of Rosie's followers sent hearty messages to the expectant mom. One of the eye-catching comments was from Sophia Grace, who commended her cousin for staying true to her. She wrote:
"Love you sm, you have always been the best cousin to me."
These two were first introduced to the world when they shared their home performance of Nicki Minaj's "Super Bass." The video showed them rocking similar pink dresses, shining tiaras, and socks.
Sophia Grace sang most of the lyrics and the rap part, holding something like a wand, while Rosie, who lent her voice as a back singer, held a pink flute.
Despite being eleven years ago, this sweet performance still steals the hearts of its audience. So far, it has received fifty-five million views on YouTube.
Earlier in the year, the girls were back to where they started, "The Ellen Show," which made them more recognizable. Ellen introduced them as one of her memorable guests, jokingly adding that they looked grown up while their parents appeared the same.
Unlike their first time on the show when they rocked matching outfits, the cousins dressed differently this time. Sophia Grace opted for a black dress, while Rosie donned a pink outfit.
They shared their experience before and after appearing on the show, revealing that the show gave them stepping stones to fame and facilitated meetings with their favorite artists.
Apart from meeting their idols, the girls bagged their first movie contract for their direct-to-video release, "Sophia Grace & Rosie's Royal Adventure."
Sophia and Rosie Shares Plans for the Future
During their appearance on "The Ellen Show," Sophia Grace revealed that she is still in the music business and that her latest single, "Little things," is out. Similarly, Rosie is focused on her music. She said:
"I am releasing a new song. My new song is called "Safe." The music video is out yet as well…I love music at the moment, I'm focusing on that."
To wrap up their time on the show, the cousins performed "Super Bass." This time, swaying the audience with their mature and polished voices.
This dynamic duo is talented and has stuck to improving their crafts through the years. Also, despite the fame, they have maintained their close relationship and are ready to continue that journey, supporting each other till the end.