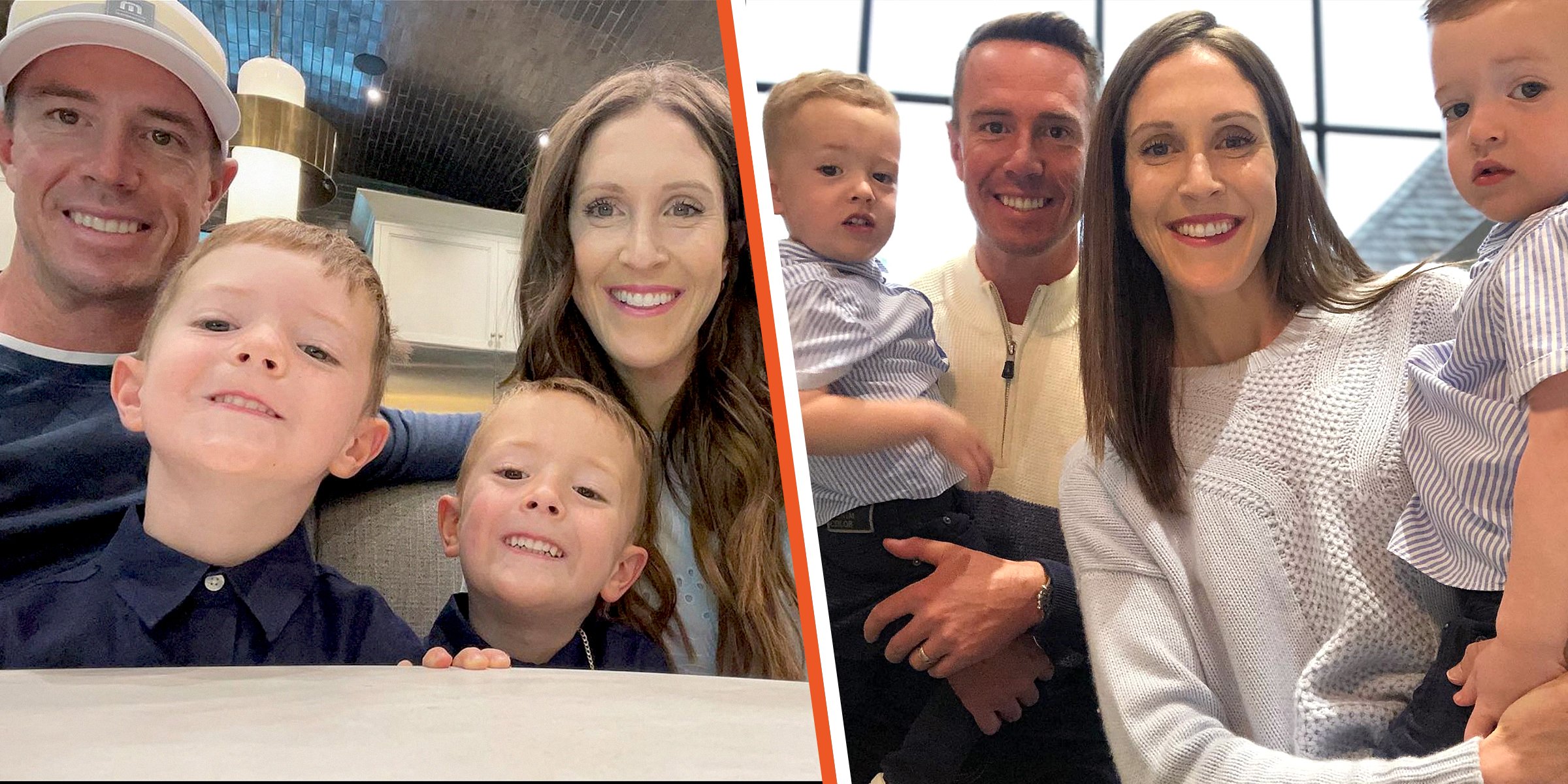 Matt Ryan, Sarah Marshall, Johnny Matthew Ryan and Marshall Thomas Ryan | Source: Instagram.com/ryan_matt02 | Source: Instagram.com/sryan03
Matt Ryan's Wife Sarah Who He Met during His First Year at College & Married Years Later

Matt Ryan's Wife, Sarah Marshall, was an athlete at the same college he attended. It was through their passion for sports that they met and eventually fell in love.
Matt Ryan's skill on the field is undeniable, having been made NFL's Most Valuable Player in 2016. He also significantly contributed to the Falcons' win against the New England Patriots in Super Bowl LI.
However, the year 2022 will be a bit different for the athlete. In March 2022, the NFL star was traded from the Atlanta Falcons to the Indiana Colts. The trade came in exchange for a third-round draft pick.
As he gained prominence in the sports world, many grew interested in Ryan's personal life, including his marriage to Sarah Marshall.
Who Is Sarah Marshall?
Marshall shares the same passion for sports as her husband, playing basketball, track, and soccer. During her junior high school year, Marshall's athleticism earned her the title of Maine's Female Athlete of the Year.
She continued to play basketball while studying for her college degree at Boston College. She recalled being on the basketball team for three years:
"I played point guard at Boston College, and I was kind of your prototypical point guard. I got everyone where they needed to be, set people up, [was] a playmaker, assists. I tried to involve my teammates."
During her first college year, Marshall also ran long distances in track. Her third sport was soccer, although she did not discuss it as much. Marshall was also involved in different sporting programs.
Marshall is an active social media user with over 44,000 followers on Instagram. On the platform, she shares snippets of her family's life.
How Did Matt Ryan and Sarah Marshall Meet and What Did She Realize on Their First Date?
Marshall met her husband during her first year at Boston College. Both athletes, Marshall and Ryan, worked out in the same building and crossed paths in the weight room.
Before becoming lovers, Marshall and Ryan started their relationship as friends, hanging out with the same group of friends. Eventually, they fell in love.
The duo's first date happened in the movies alongside three of Marshall's teammates. Although she felt awful about having others with them, her now-husband was positive the whole time, and that's how she knew he was a good man.
They fought to survive in the NICU until the day that they were cleared to come home. Marshall Thomas came home after five weeks, and his brother followed the week after.
In 2010, Marshall became Ryan's fiancée, and the following year, on April 8, 2011, they officially became husband and wife. Five years later, the athlete visited Boston College to give a speech and said that the most valuable thing that happened during his college stay was meeting Marshall.
Sarah Had Complications during Her Pregnancy
Marshall and Ryan became parents in 2018, welcoming twin boys Johnny Matthew Ryan and Marshall Thomas Ryan. At the time, the new mom revealed to People that her pregnancy and birth were difficult but worth it.
She later discussed the challenges in a detailed Instagram post, revealing that she experienced pregnancy complications that placed her on bed rest for six weeks. When her boys were born, they came out small and weak, but inside, they were tough.
They fought to survive in the NICU until the day that they were cleared to come home. Marshall Thomas came home after five weeks, and his brother followed the week after. Marshall expressed her deepest gratitude to the doctors and nurses who cared for her newborns when she could not.
"We are so grateful for our family and friends, who we couldn't have gotten through this journey without. And we thank everyone/all of you who checked in on us over these past few months," she said.
Ryan is one of the many successful NFL players who are also parents. Others include Adrian Peterson, who considers his family his everything.
The information in this article is not intended or implied to be a substitute for professional medical advice, diagnosis or treatment. All content, including text, and images contained on TheCelebritist.com, or available through TheCelebritist.com is for general information purposes only. TheCelebritist.com does not take responsibility for any action taken as a result of reading this article. Before undertaking any course of treatment please consult with your healthcare provider.