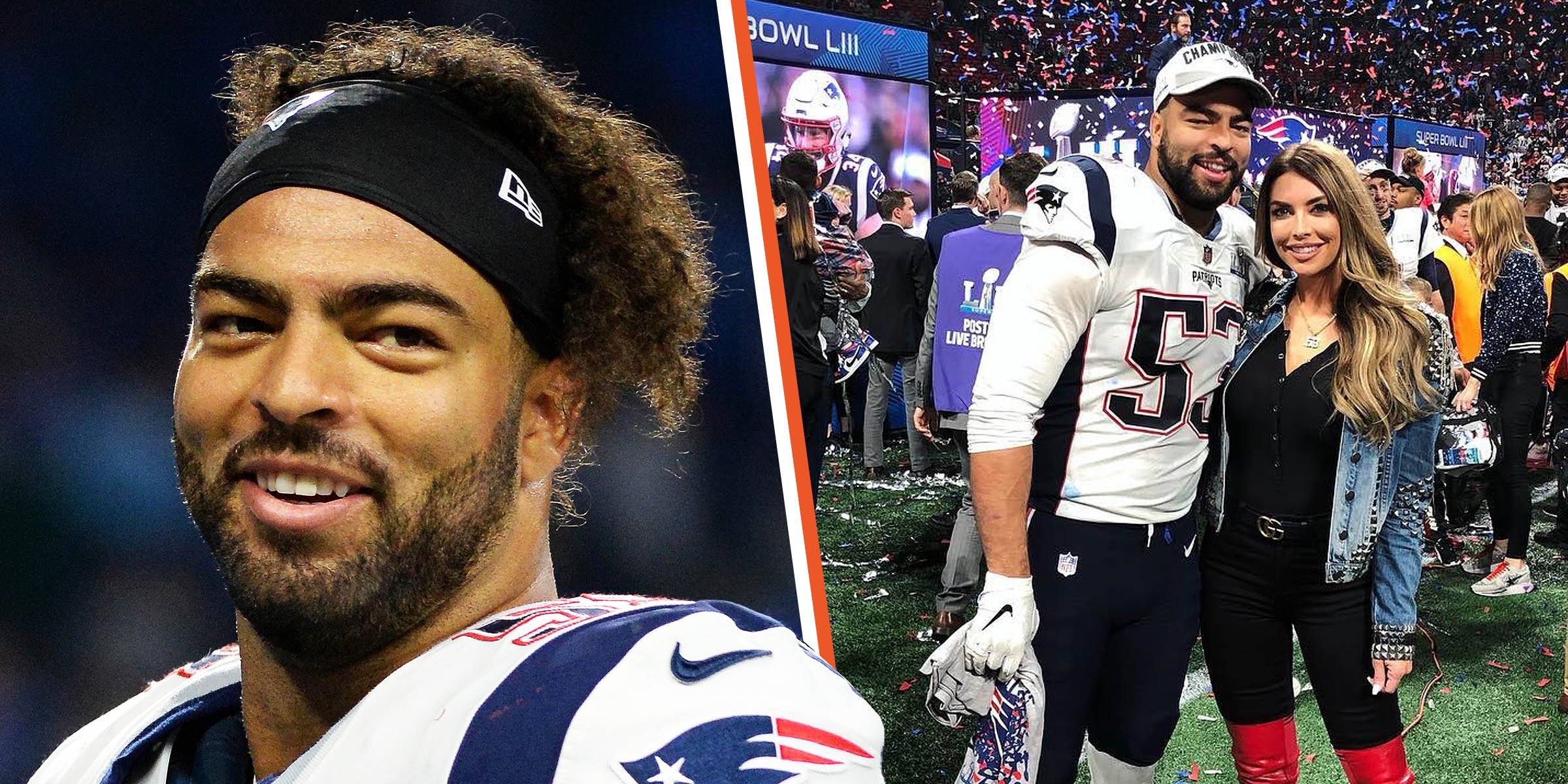 Kyle van Noy | Kyle Van Noy and Marissa Powell. | Source: Getty Images / instagram.com/realmarissavannoy
Kyle Van Noy's Wife – A Timeline of His Relationship with Marissa Powell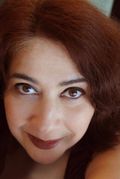 Utah beauty Marissa Powell married Los Angeles Chargers star linebacker Kyle Van Noy in 2014. The couple shares two children, and their love story is inspiring.
The course of true love doesn't always run smooth, and Marissa Powell Van Noy and Kyle Van Noy's romance had some dark days before they won through for their happily-ever-after.
Marissa and Kyle met back in 2011, long before he was a star linebacker and she was a beauty queen. The two started dating at Brigham Young University in Utah, Marissa's home state.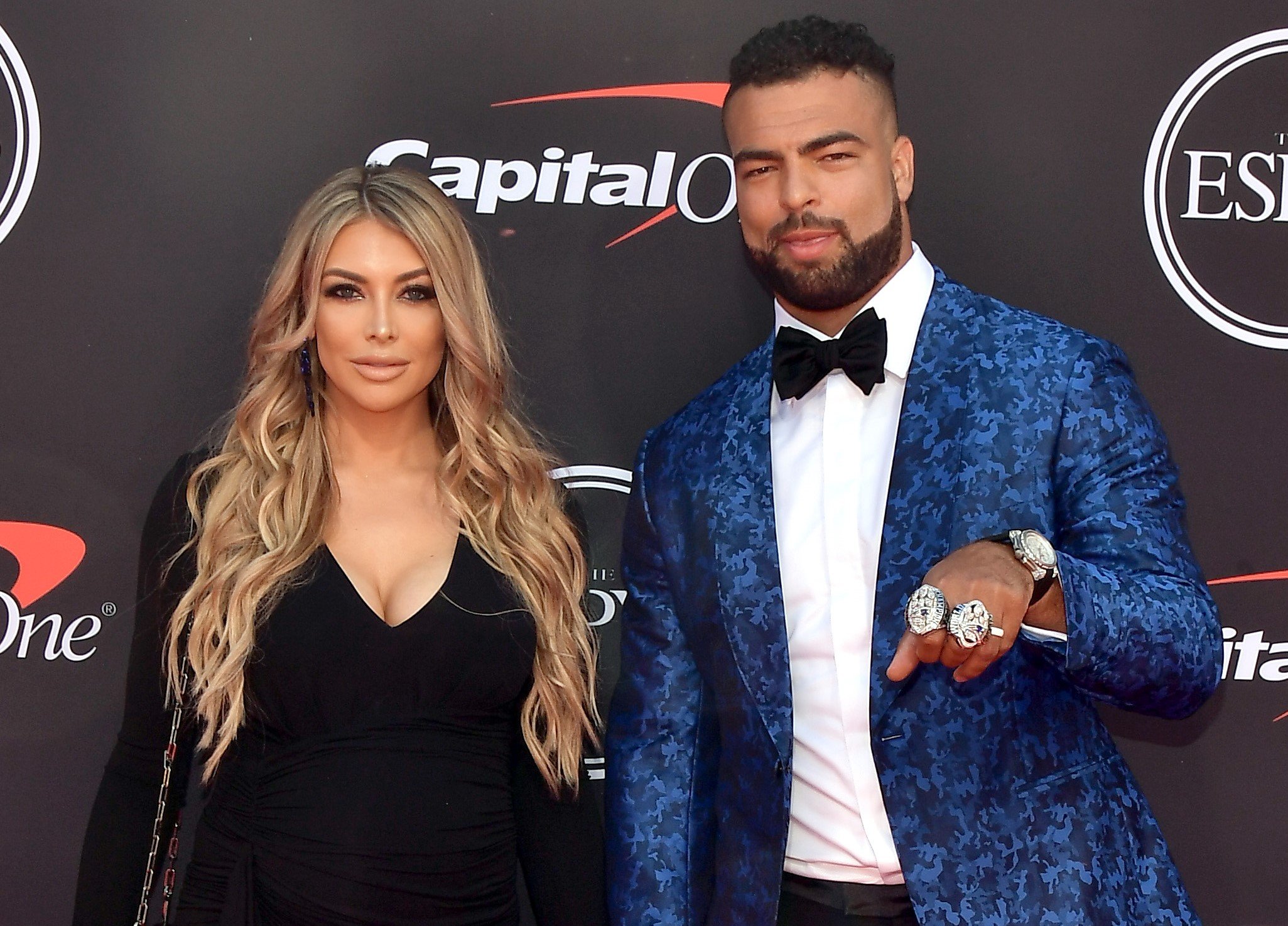 Marissa Powell and Kyle Van Noy at the 2019 ESPYs in Los Angeles, California. | Source: Getty Images
Who is Marissa Powell?
When Marissa and Kyle met, he was playing college ball, and she was the prettiest girl on campus, a student, and a model. Like Kyle, she is very athletic and played volleyball in high school. She played defense and was an All-Region for two consecutive years.
In 2013, Marissa competed for the crown of Miss Utah USA and won. That led to her competing in the Miss USA Pageant. After fumbling with an interview question, Marissa was placed as third runner-up, and Kyle was there to help her through the disappointment.
Kyle has revealed that even though he and Marissa are currently focused on raising their little family, they have spoken about continuing their families' tradition of adopting and bringing children who need love into their lives.
Marissa is very close to her family and has a sister and a brother. On one of their first dates, Kyle told her he was adopted, and she revealed that her father and brother were adopted too. Her sister, Nicol, won the Miss USA 2015 pageant.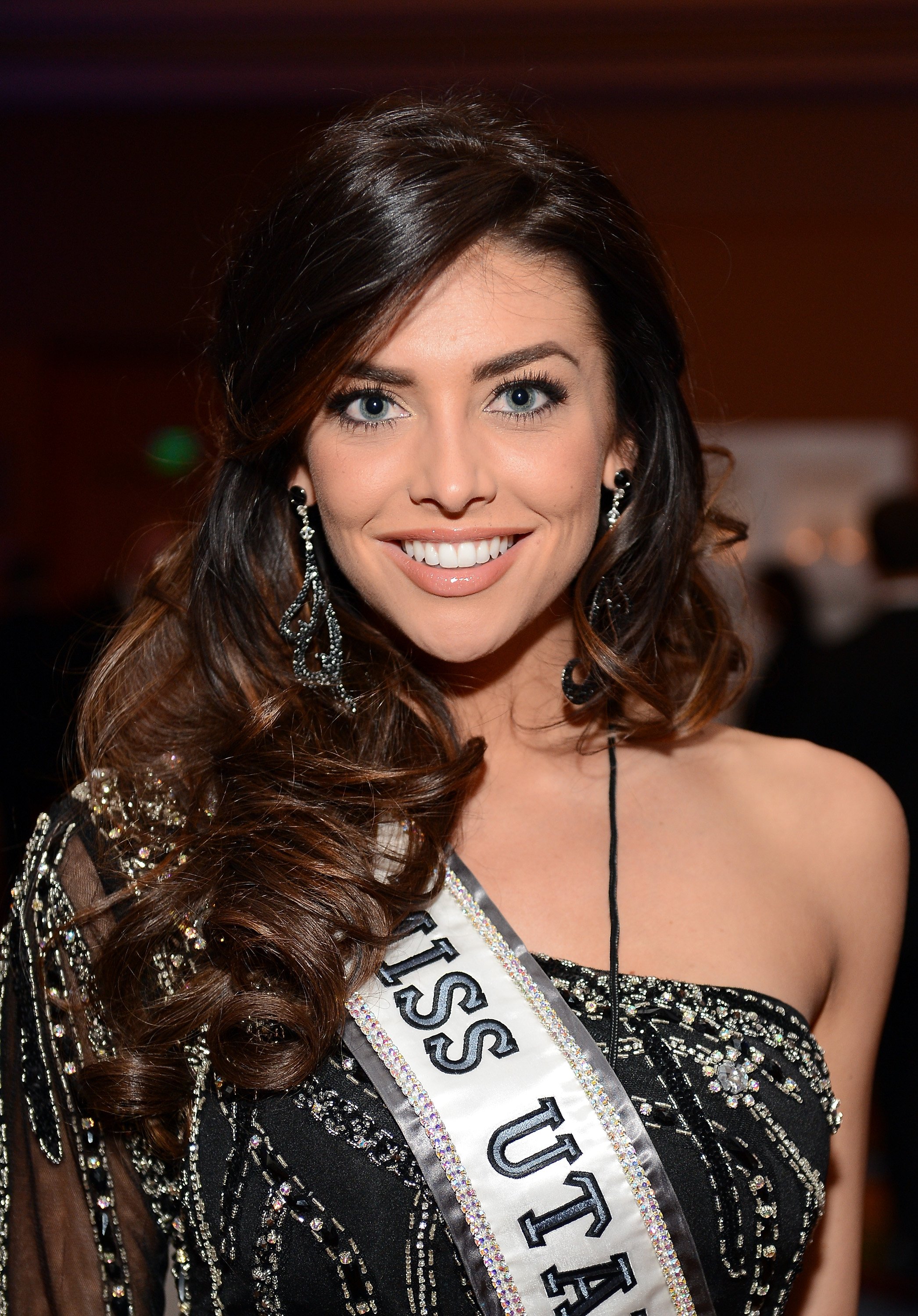 Miss Utah Marissa Powell at the 2013 Miss USA Pageant in Phoenix, Arizona. | Source: Getty Images
Kyle Van Noy & Marissa Powell's Love Story
Kyle was smitten at first glance, but Marissa wasn't so sure he was the one for her. He revealed that she "ditched" him at their first meeting. Fortunately, Kyle talked her into a date. Marissa confessed:
"After our first date, I though:'Ok, he's really cool'!"
The two continued dating all through college, and though they sometimes put their romance on pause, their friendship never flagged. Marissa revealed that Kyle has constantly pushed her to achieve, even while exerting himself to get into the NFL.
The two are touted as the perfect couple, the beauty queen and the NFL star. Still, from the beginning, their relationship was much more based on mutual respect and support and similar outlooks that put family values first.
Kyle Van Noy & Marissa Powell's Engagement and Wedding
Kyle popped the question at a family get-together in his hometown in Nevada on December 1, 2013, kneeling to Marissa inside a rose-petal heart. While the family watched and applauded, the stunned Marissa said yes.
The proposal was after Marissa's stint as Miss Utah ended but before the 2015 NFL picks that would define Kyle's career. The couple decided to get engaged and face whatever the future brought together.
Six months after Kyle proposed, the two were married at the Salt Lake LDS Temple and celebrated in a fairytale setting at the elegant McCune Mansion, complete with a lion ice sculpture in honor of Kyle's new team, the Detroit Lions. Because of Kyle's professional commitments, the couple decided to postpone their honeymoon.
Kids
In May 2019, Marissa announced on her Instagram account that she and Kyle were expecting the impending arrival of "Baby Van Noy." She also revealed that Kyle had convinced her to remain ignorant of the baby's gender until the birth.
For Kyle, having a child meant a lot. It was the first time he would have someone in his life who was biologically related to him, his flesh and blood. He said:
"I'm just excited, finally, to meet someone that's half of me, you know? I know I can see myself in them. That's something I've always wanted."
The couple welcomed their first child, son Trae Ledgend Van Noy, on September 8, 2019. Nearly three years later, their family grew with the birth of their baby girl, Giavanna Monnae Van Noy, on February 23, 2022.
Kyle has revealed that even though he and Marissa are focused on raising their little family, they have spoken about continuing their families' tradition of adopting and bringing children who need love into their lives.
Marissa Powell and Kyle Van Noy's Joint Cause
A football player's life is far from settled, but the Van Noys have turned that into an asset and an investment opportunity. They started flipping houses to allow Marissa to pursue her career as a decorator while Kyle played football.
Every time they move to a new city, they buy a house for the family, but they also have flipping potential. Kyle revealed that their market is the upscale, luxury home, a constantly growing segment. Their first big challenge was in Miami, where their flip earned them $500,000.
So far, the couple has flipped five houses and will probably flip more. Currently, Marissa is decorating a stunning mountain getaway all their own in Alpine, Utah. No matter how far they travel, it seems as if the Van Noy family's heart is always close to Marissa's home state.
Marissa and Kyle have another project they developed together in 2014: Van Noy Valor Foundation. The Foundation is dedicated to removing the stigma of adoption.
It encourages fostering and adoption and makes adopted kids proud of who they are, just as Kyle is. He believes that the family who raised him was the family he was meant to have, like the biological family he built.