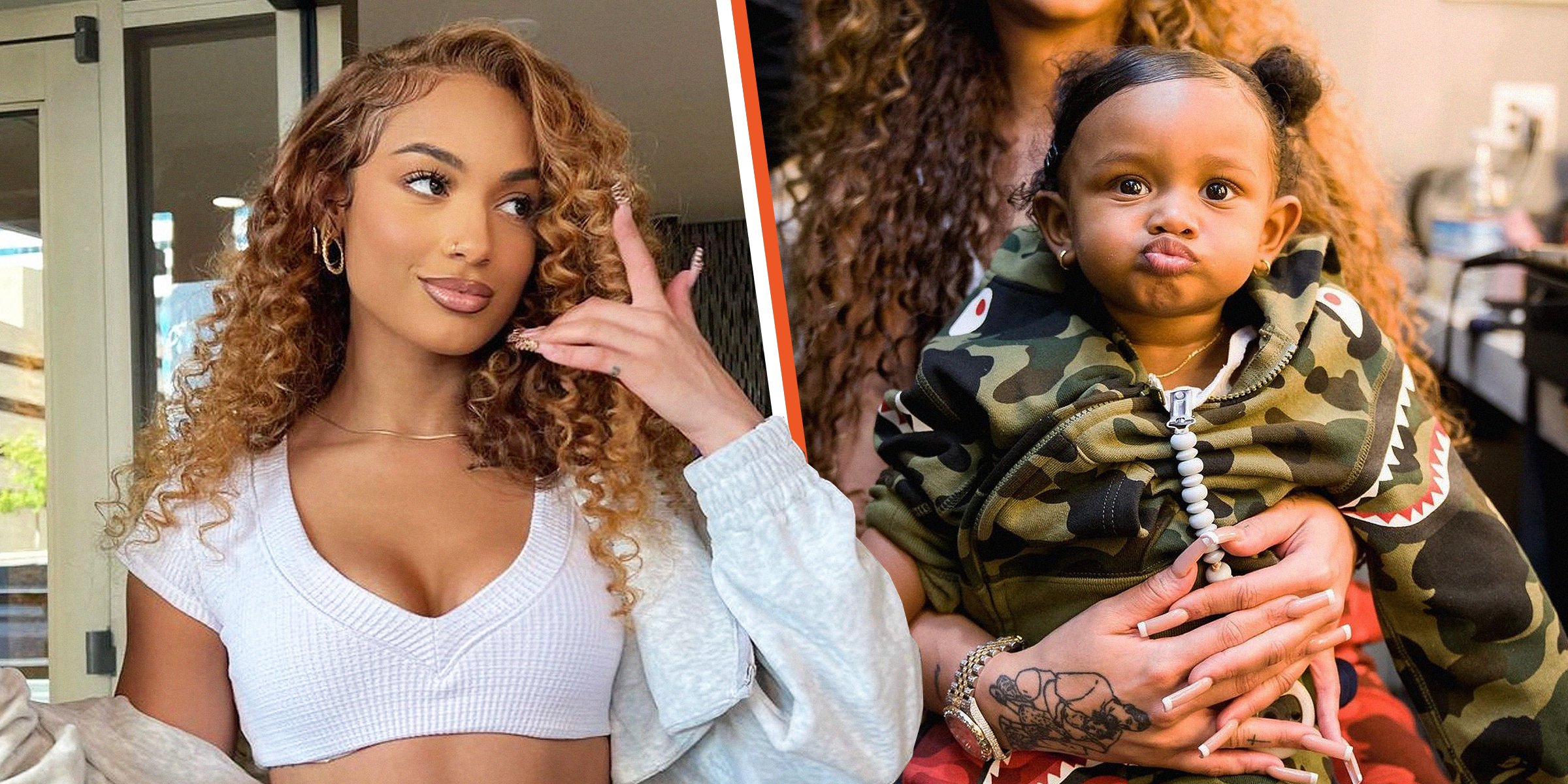 DaniLeigh I DaniLeigh and Velour I Source: Instagram/iamdanileigh
Danileigh's daughter Velour Causes a Wave of Comments When Spotted on Her Parents' Social Media

DaniLeigh, born Danielle Leigh Curiel, is a talented singer and dancer. The artist is already a mother of one; DaniLeigh's daughter is Velour, whom she shares with rapper DaBaby.
DaniLeigh is a famous American singer/songwriter and rapper who shares a daughter with another well-known artist, DaBaby. The singer has released numerous albums and is also a choreographer.
The dancer and the father of her child named their daughter Velour. DaniLeigh loves sharing lovely photos of her adorable child Velour on social media and even dedicated one of her tours to her.
DaniLeigh and DaBaby
DaniLeigh and DaBaby made their relationship known in December 2020. The couple reportedly broke up in early 2021 after DaniLeigh announced that she was single. They never revealed the reason for their split.
Months after DaniLeigh and the famous rapper separated, DaniLeigh revealed she was pregnant. The songwriter shared the news in a Twitter post, which included maternity photos.
In November 2021, the drama between DaniLeigh and DaBaby was made public in an Instagram Live video. The two had a heated argument, and the since-deleted clip showed the pair arguing while DaniLeigh was nursing their baby.
According to numerous reports, DaniLeigh claimed that DaBaby hadn't made time for their daughter since birth, and he was trying to make her leave his apartment. The arguing is said to have continued the next day as the former couple fought over the nature of their relationship.
DaniLeigh spoke about her daughter and her relationship with DaBaby on iHeartRadio in May 2022. The singer revealed in the interview that they had been dating on and off for about three years.
She also shared that they started talking in September 2019 and were in love. DaniLeigh described the relationship as "toxic" and said the former couple had ups and downs.
She said she experienced a "very bad time" in her life after the video on IG and was "very sad." DaniLeigh also expressed that she wished it didn't happen because she didn't want her daughter to see it later.
DaniLeigh's Daughter, Velour
DaniLeigh and DaBaby welcomed their child together in August 2021. Velour's mother shared the first snap of her adorable baby girl in late 2021, to the delight of her fans, and she hasn't stopped since.
She shared pictures of Velour as a newborn and often gushed over her beautiful face, eyes, and smile. The singer celebrated her first Mother's Day in 2022 and had some incredible photos to share with her mini-me.
In May 2022, she posted many images of her having fun with her little one. DaniLeigh's daughter Velour had a massive celebration for her first birthday in her own little car and enjoyed her party showing off some dance moves with her family and friends.
One of DaniLeigh's posts that was flooded with comments was from Velour's first birthday party. DaniLeigh shared a video on August 13, 2022, which showed her and Velour driving their respective cars. Most fans agreed the video was cute, mainly because they were both driving similar vehicles.
In another Instagram video from October 2022, DaniLeigh showed her and her daughter twinning in pink outfits. She revealed in the caption that she was on tour with her daughter, who she described as her "best friend."
Fans responded to the post by saying how cute she was. One fan wrote, "This ....this is one of the things that makes life worth living," with another saying, "Not many things in life are perfect, but this visual here just may be."
Everything 4 Velour
Danielle Leigh Curiel spoke about making her music personal in December 2020. She named her first major headlining tour in 2022 the "4 Velour" Tour. The five-week tour started in California in September 2022 and ended in Los Angeles in October 2022.
She took to Instagram after her tour concluded to thank her fans who came to see her perform by sharing photos of her and Velour. DaniLeigh ended the caption to the post by writing, "#4velourtour was epic & so special to me."