Getty Images
DaBaby's Height Is under Constant Attention from Twitter Users - How Tall Is He?

Twitter fans constantly ask how tall DaBaby is, which puts his height under constant attention, especially when he always looks small beside his more built bodyguards.
American rapper DaBaby, whose real name is Jonathan Lyndale Kirk, is popularly known for his songs like "Suge," "Rockstar," "BOP," "Baby Sitter," "Intro," "Blame It on Baby," and more.
With his increased popularity, the rapper has had to move around with security guards. However, fans become curious about how tall he is when he moves with his bodyguards due to their height differences.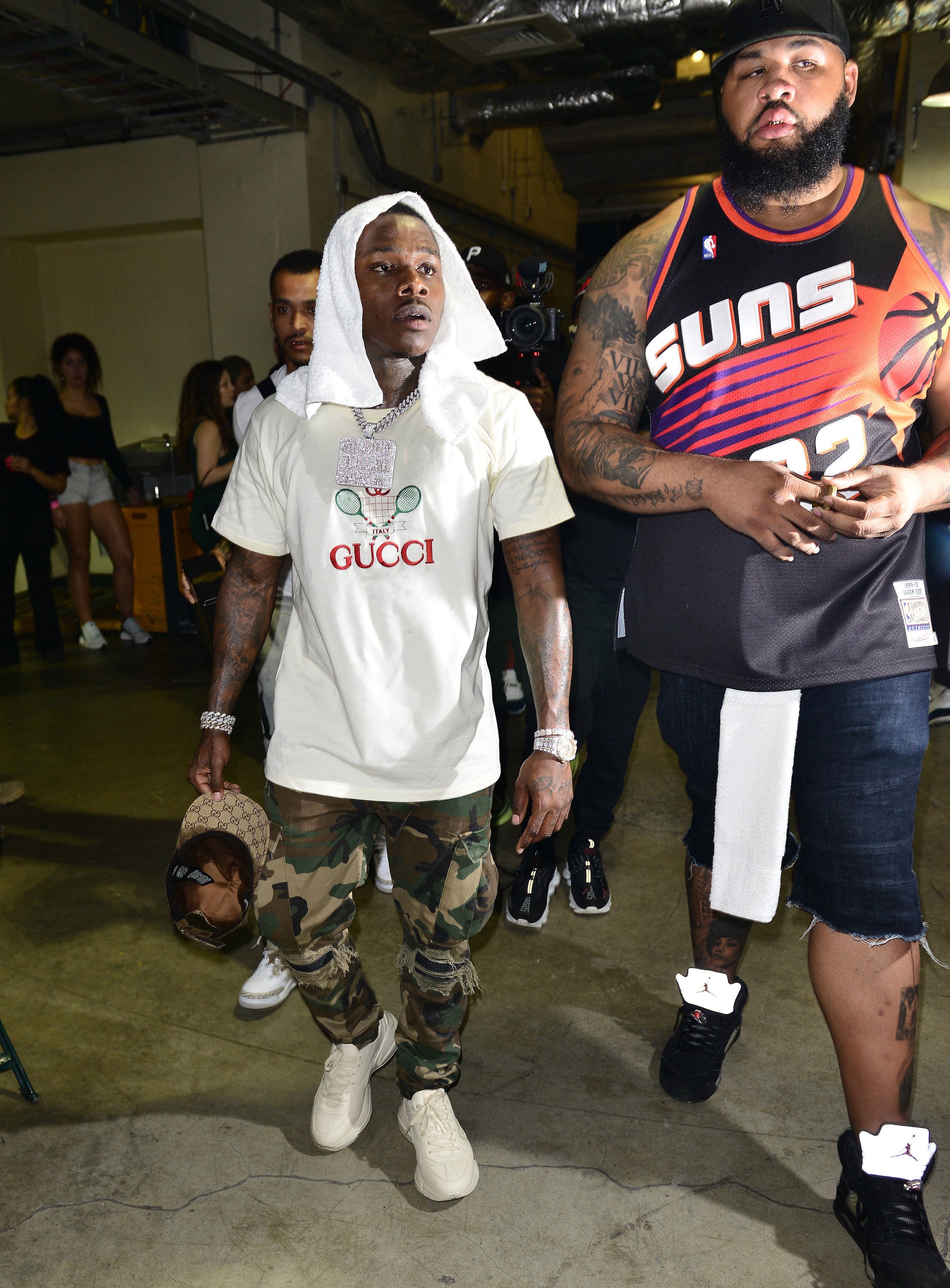 DaBaby walking beside his bodyguard on September 27, 2019 | Source: Getty Images
While DaBaby's bodyguard has been described as "giant-sized," his fans and opponents have poked fun at the rapper's height for years. One Twitter fan believes the rapper "would have been too powerful if he was tall." Another fan said:
"His name is literally 'DaBaby.' No one expected him to be tall."
In 2019, another fan said: "I wanna be tall enough to carry DaBaby on my hip and have his feet dangle." Another just wanted to know how tall he was because she had changed her heart.
Another fan said he was not even tall enough to act the way he does. When fans finally know the rapper's height, they usually find it surprising. Let's find out how tall DaBaby is.
THE ACTUAL HEIGHT OF DABABY
While several sources claim different heights for DaBaby, according to CapitalXtra, the rapper is 5 feet 8 inches tall. Compared to the talks online about his size, he is not as small as he looks beside his bodyguards.
Based on his actual height, the rapper is reportedly the same as Kanye West, Ludacris, Eminem, and Ice Cube. He's also nearly half a foot taller than the late Eazy-E, who was 5 feet 3 inches tall.
The "Red Light Green Light" rapper is also two inches taller than Kendrick Lamar and Lil Jon, who are 5 feet 6 inches tall, and one inch taller than DJ Khaled, who is 5 feet 7 inches tall.
DABABY'S HEIGHT WAS ROASTED AFTER HIS ALLEGED BEEF WITH JOJO SIWA
In early 2021, DaBaby reportedly had a beef with the American singer, dancer, and YouTube personality JoJo Siwa after he released his "Beatbox Freestyle" that mentioned her name alongside a derogatory term.
Siwa's fans immediately thought he was dissing her from the lyrics, and they came to her defense and attacked his height in the process. One fan said: "I wonder where Dababy's animosity for JoJo Siwa comes from. It's gotta be the height difference."
Another fan who could not understand why the rapper would diss Siwa said: "Don't know why DaBaby is coming for JoJo Siwa when this is their height difference."
However, there was a different explanation for why the rapper mentioned JoJo Siwa. The rapper reportedly used the term to mean "Jonathan see why."
This is because his first name is Jonathan, and "Siwa" is a word he uses to mean "see why." Hence, the rapper saying "JoJo Siwa" was a shorter version of "Jonathan see why."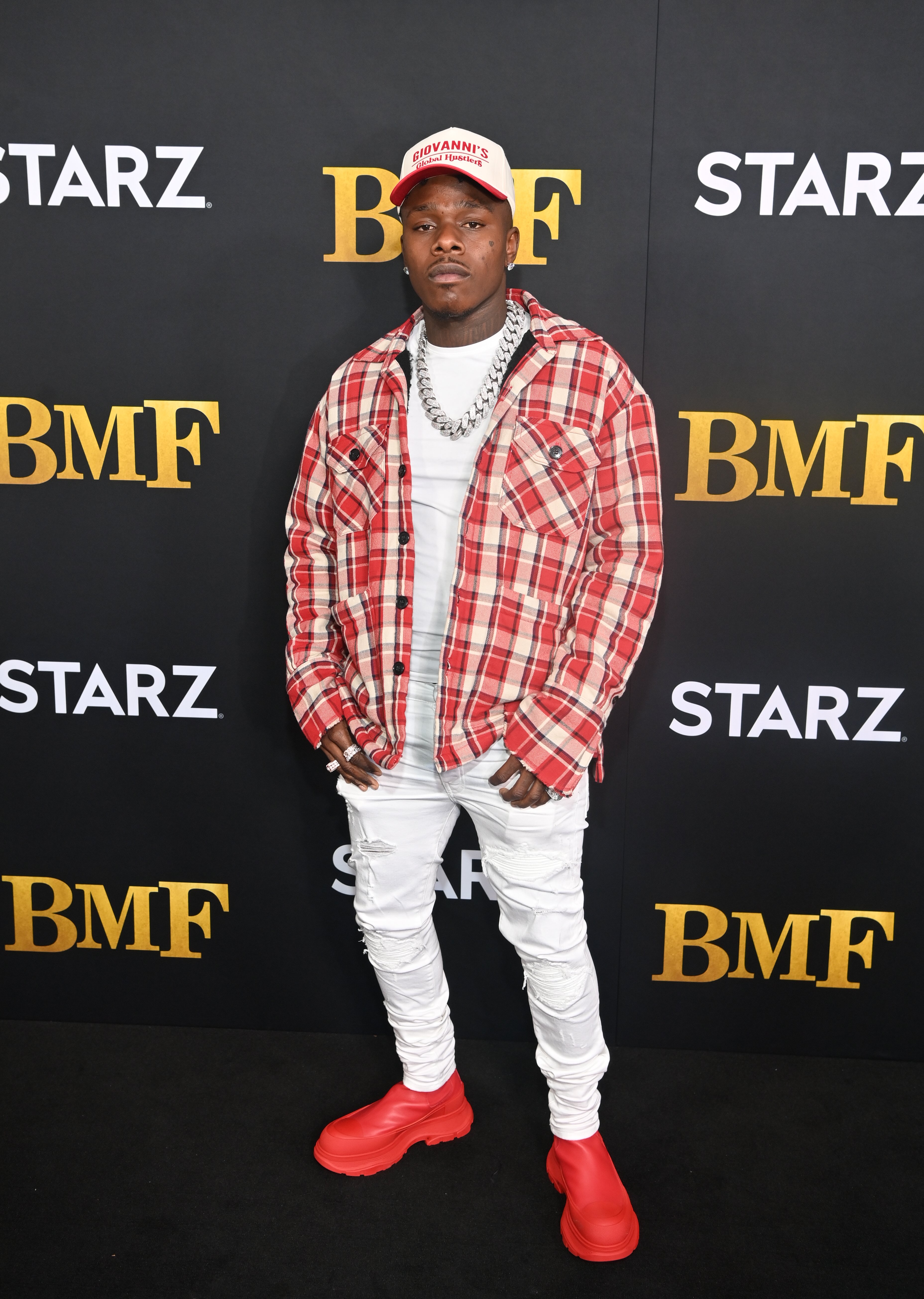 DaBaby at the world premiere of "BMF" World on September 23, 2021 | Source: Getty Images
The rapper also tweeted the YouTube star to tell her he meant no harm as his daughter loves her. In his tweet, the rapper said:
"@itsjojosiwa, my 3-year-old princess, is your number 1 fan. I bought her every product you have out. She think she you. Don't let em trick you into thinking id ever have a problem with you [sic]."
He further stated that his wordplay went over the heads of fans. However, one fan who did not buy the explanation said: "DaBaby, after looking up JoJo Siwa's height and knowing he'd have to apologize."
DABABY CONGRATULATED DRAYMOND GREEN ON HIS WEDDING
When Golden State Warriors anchorman Draymond Jamal Green Sr. got married over the second weekend of August 2022 to his actress wife, Hazel Renee, DaBaby was there to celebrate with them.
Not only did he celebrate with them, but he also performed the hit song "Rockstar" with fellow rapper Roddy Ricch and the groom did not hesitate to join in on the performance.
DaBaby later took to his Instagram to thank the couple for allowing him to be a part of their special day and to tell them that he had a blast.