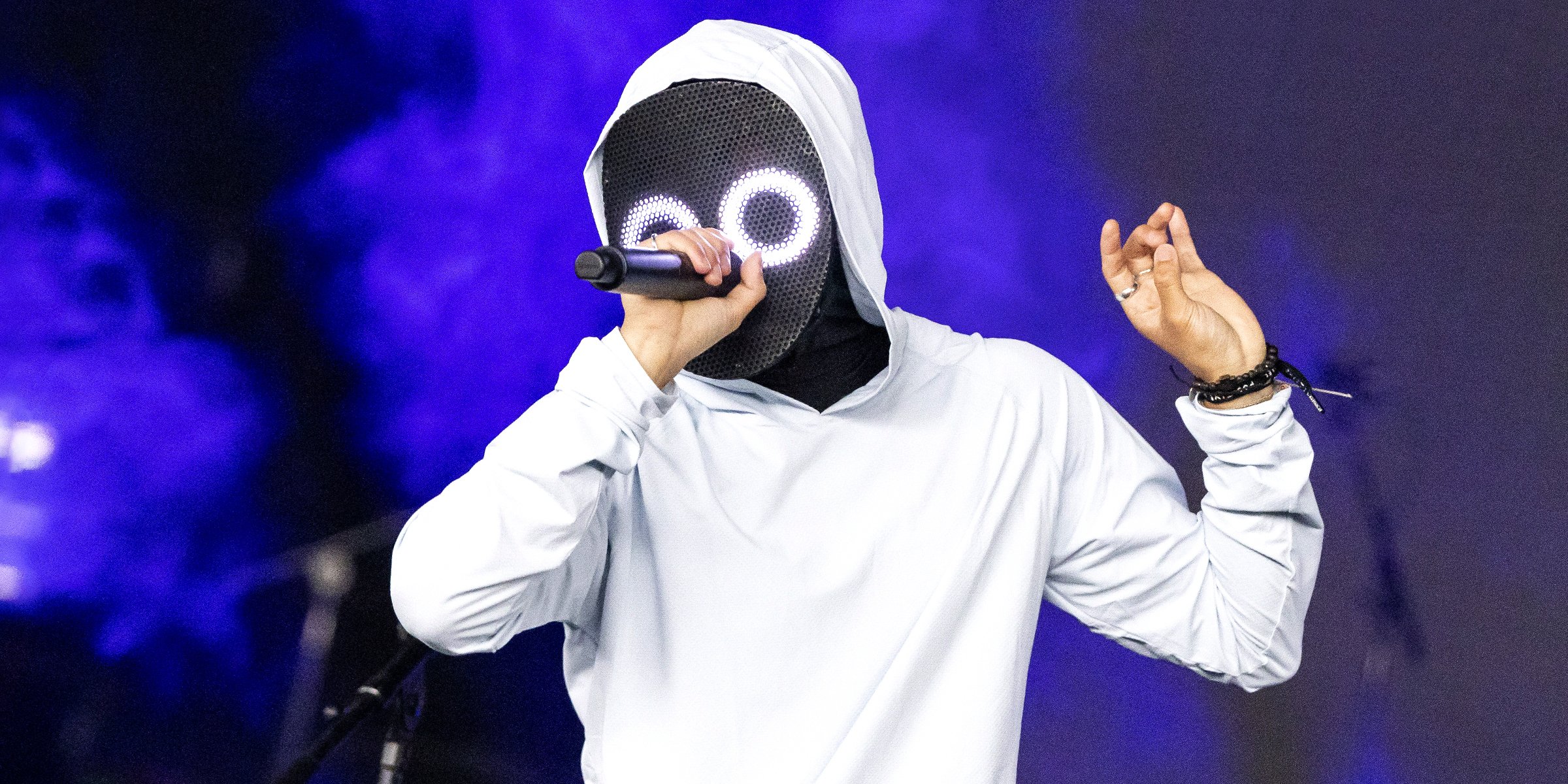 BoyWithUke, 2022 | Source: Getty Images
BoyWithUke's Face Stays a Secret - Meet the TikTok Star Who Keeps His Mask On

BoyWithUke is a musician that has managed to attract people's attention despite nobody knowing his real identity. Nobody has seen BoyWithUke's face, but the artist has accrued millions of followers on TikTok.
BoyWithUke has become a well-known musical artist with many followers and fans. The youngster has also accrued millions of views on his TikTok and YouTube videos. He learned to play ukulele to try to impress a girl he liked, and that eventually turned him into an internet sensation.
Besides playing the ukulele, he also produces, writes, and sings songs. BoyWithUke is the most famous masked singer on TikTok. At the time of publication, he had already amassed 6.5 million followers on TikTok and 102 million likes.
The TikTok star's songs are inspired by Milky Chance, Twenty-One Pilots, and Dominic Fike. He usually sings about bad friends and long-distance relationships. He also writes songs requested by his commenters and asks them to suggest names for songs he records.
He revealed in early 2022 how he started playing the ukulele. BoyWithUke said he spoke to a girl he liked two years ago, and she showed him a video of her friend playing the ukulele at a talent show. She later became his girlfriend, and he learned a skill that helped him become TikTok famous.
According to BoyWithUke, the girl said the video was incredible, and her friend was talented. It prompted him to learn how to play the ukulele to "impress this girl." Apart from this fantastic story, there are other interesting facts about BoyWithUke.
What We Know about BoyWithUke
Although BoyWithUke's face remains a mystery, Billboard reported in February 2022 that a 19-year-old guy from Massachusetts was behind the mask. At 4, BoyWithUke learned to play various musical instruments thanks to his parents' insistence.
Personal struggles saw him turning to music to express his emotions until he started writing his music around high school. His younger brother then encouraged him to download TikTok and post his work on the platform, which worked well for him.
BoyWithUke learned to produce music in high school using the GarageBand app on his iPad. And that was his biggest takeaway after graduating. The musician has shared that he doesn't go to any particular studio to work on his music. He writes his music on his bedroom desk, the same he says he uses to "eat and play video games." Aside from his musical interests, he also plays soccer.
Why Does BoyWithUke Keep His Mask On?
BoyWithUke has expressed his reasons for having the mask; he revealed that he grew up in a judgmental environment and was scared to express himself. The mask gives him the courage to be himself.
The singer didn't make the mask himself but bought it from Amazon. He shared an interview on his YouTube channel in June 2022, where he called the mask a physical manifestation of his persona.
The mask seems appealing to his fans, as some like the look. A Twitter user asked in February 2022 where they could get the mask BoyWithUke has because they wanted one. In another tweet from September 2022, a fan said they would still listen to his music even if it weren't good because they love his mask so much.
From a Masked TikTok Star to a Global Sensation
BoyWithUke's big break came when he released his song titled "Toxic," which he first shared on TikTok. He said the song was inspired by something significant that happened in his life at the time. BoyWithUke shared that he wrote the track when he faced personal issues and dealt with many toxic things "about the relationships" he had then.
He said he didn't expect it to blow up as it did. The song led him to sign a deal with the major record label Republic Records, which houses bigwigs such as Taylor Swift and Ariana Grande.
Following his track "Toxic," BoyWithUke released more music, and all of them gained critical acclaim from his fans. They also accumulated millions of views on YouTube. Some songs include "Two Moons," released in 2021, with over 28 million views. The other track, "Loafers," has more than eight million views.
BoyWithUke Rides the High of His Surging Fame
In 2022, riding the wave of his newfound fame, BoyWithUke released his debut LP, "Serotonin Dreams," containing 11 songs. It included his viral song "Toxic" and the single "Long Drives," which had millions of views on YouTube.
" was inspired by the fact that BoyWithUke was in a long-distance relationship. He said he had to "go on long drives" to see his girlfriend and also expressed that he included fears he had about long-distance relationships in the single.
He also embarked on a tour and said it was "very exciting" and "daunting" for him to headline his first tour. The producer mentioned that he didn't think his parents had heard him sing live, so it was scary for him. He also said he thought he would be comfortable performing with the mask.
According to his Instagram, some places he performed include Amsterdam, and a post from April 2022 showed a photo of him on stage and videos which showed snippets of his performances. He also mentioned in the caption that he was heading to Berlin next.
He also went to Europe and shared numerous photos of him performing in front of a huge crowd. His London performance also looked like a massive success as he shared a photo of himself on stage. He also posted a video of him performing and the crowd singing along. After these tours, BoyWithUke released his most recent single, "Sick of U," in October 2022.
BoyWithUke Keeps His Feet on the Ground
At the start of 2021, BoyWithUke only had small goals he wanted to achieve. But he accomplished even bigger things in 2022. In the middle of his stardom, the Tiktok star-turned-singer remains grateful for the opportunity. But no matter what, he says the mask stays on for now.
Another TikTok star that got many people's attention and became known for her skills is Deven Zimmer. The 23-year-old went viral for her impressive hula hoop skills a few years ago.