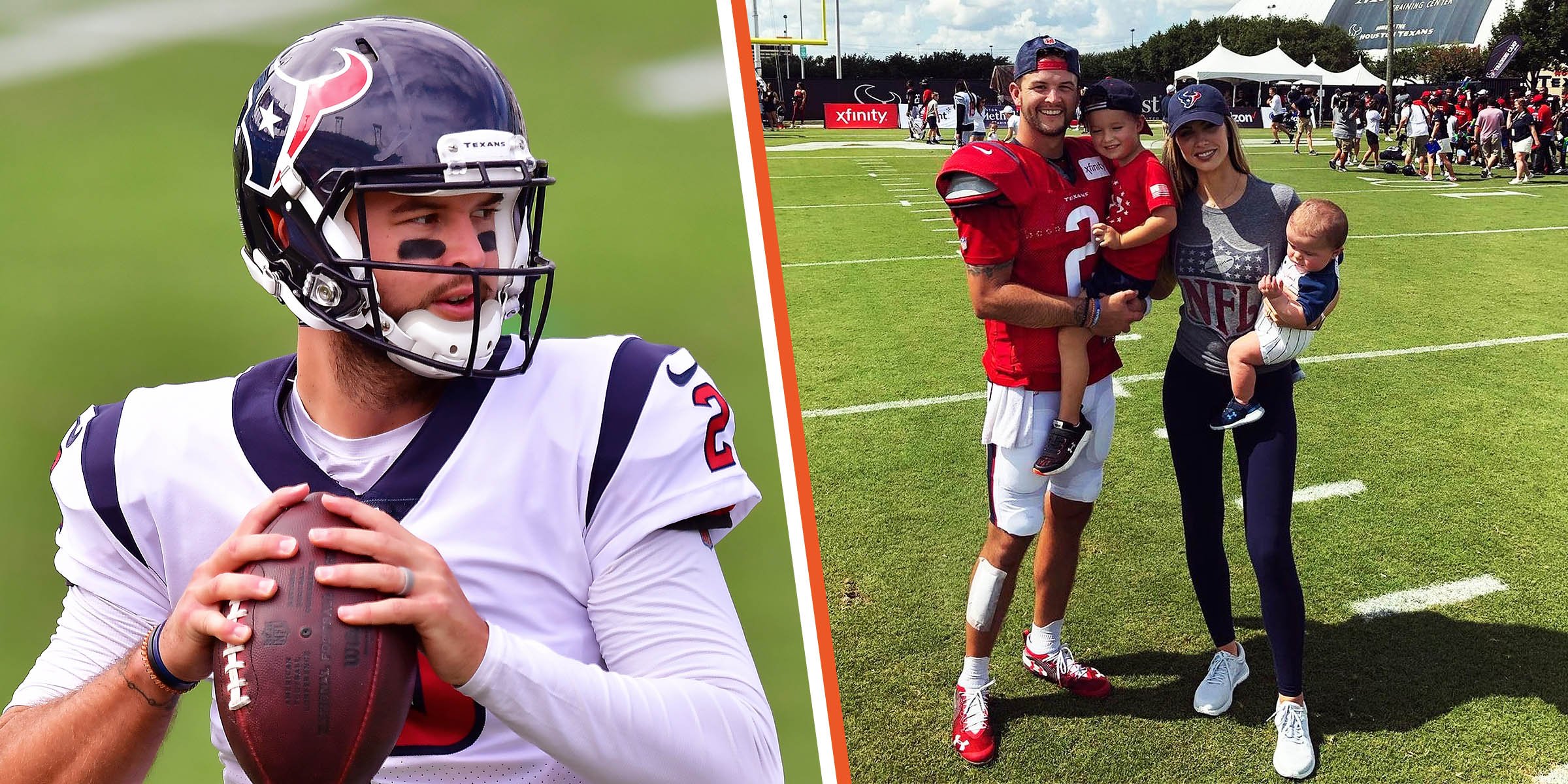 Football star A.J. McCarron. | A.J. McCarron, his wife, Katherine Webb, carrying their children. | Source: Getty Images | Instagram/_katherinewebb
Who Is AJ McCarron's Wife? – All We Know About Former Miss Alabama Katherine Webb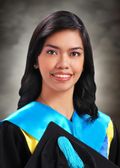 Katherine Webb, who is A.J. McCarron's wife, became an overnight sensation nearly a decade ago. Her unexpected popularity launched the start of her Hollywood career. However, she eventually quit her life in the spotlight for a reason.
Katherine Webb has revealed that at the onset of her career as a model and television personality, she "gave it all up" to start a family with quarterback Raymond Anthony "A.J." McCarron, Jr.
For eight years, Katherine and A.J., who plays quarterback for the Houston Texans in the National Football League (NFL), have been a happy and successful couple. They are parents to adorable three children.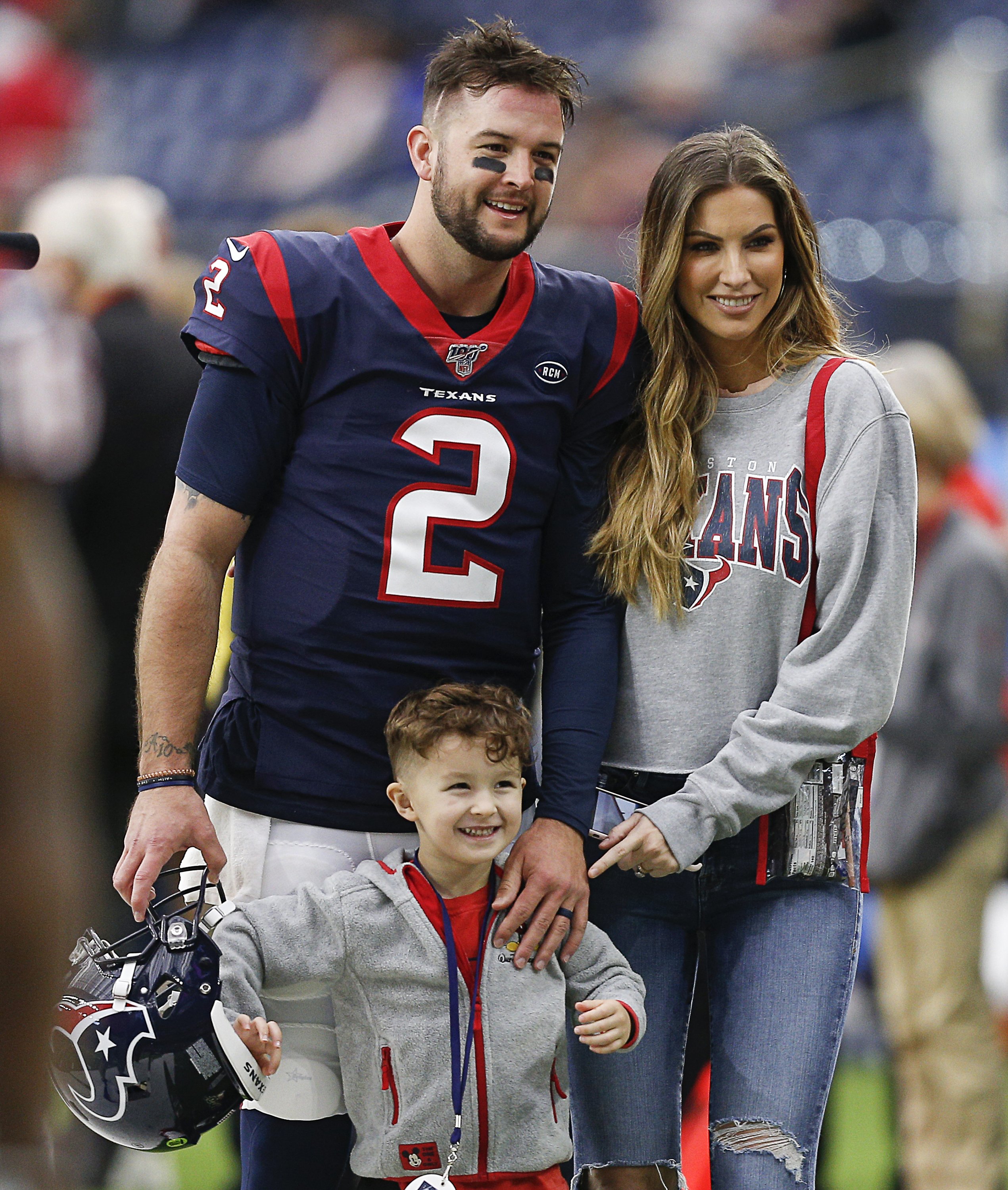 A.J. McCarron, his wife Katherine Webb, and their eldest son, Tripp, pose for a picture on the sidelines before a football match against the Tennessee Titans at NRG Stadium on December 29, 2019, in Houston, Texas. | Source: Getty Images
Who is Katherine Webb? A.J. McCarron's Wife and Mother of His Kids
Katherine had already established herself in the public eye. She was a former model who won Miss Alabama USA in 2012 but being a beauty queen that year did not quickly propel her to celebrity status.
She shot to fame in 2013 after ESPN sportscaster Brett Musburger, while covering the national championship game between the Alabama and Notre Dame football teams, remarked on her beauty.
During an ESPN broadcast, the camera eventually turned to Katherine. She was only paying attention to the football game that A.J., a member of the Alabama Crimson Tide at the time, was playing in.
The veteran sportscaster later publicly apologized after fans pointed out his sexist remarks. On Katherine's part, she said she was not offended by the comment and that the apology was unnecessary.
Shortly after her moment of internet fame, Katherine pursued different opportunities in the entertainment industry. She modeled for Sports Illustrated magazine (S.I.) in 2013 and participated in the diving competition for celebrities, "Splash."
The brunette's unexpected rise to fame made her realize that being in the spotlight was never meant for her. So she decided to quit her career. Katherine added:
"I quit 'Hollywood' shortly after bc I realized I genuinely hated being 'famous' and having my personal life out there so much (sic)."
The former beauty queen explained that she had already achieved her dreams of becoming a model for Sports Illustrated. She had another accomplishment: becoming a field reporter for Inside Edition at the 2013 Super Bowl.
Despite covering the Super Bowl, Katherine admitted she could not do her job well at the time due to the attention she received following the infamous video involving the ESPN broadcaster.
In addition, Katherine mentioned that she "gave it all up" to marry A.J., whom she referred to as her "forever love." She also yearned to have children with the football player.
While A.J. continues to thrive in the spotlight more than she does, Katherine is content to cheer her husband on from the sidelines.
Katherine has been painting since retiring from modeling and acting on T.V., and as a result, she is now an accomplished artist. She has done abstract painting from her home in Mobile, Alabama.
Kids & Family Life
While it's unknown how the stunning pair exactly met, Katherine and A.J. have been together since December 2012. Two years later, the longtime couple tied the knot in 2014.
They share three wonderful sons. They welcomed their eldest son Raymond Anthony, also known as Tripp, in May 2016 and their second child Cash Carter in December 2018.
In April 2021, the power couple welcomed their third son, Gunnar Cruz McCarron. Katherine stated that expecting her third child was "the hardest," but she was thankful it was a healthy pregnancy.
Elated at her third son's arrival, Katherine Webb posted several videos from her hospital room, including a sweet photo where her husband kissed their newborn son on the nose.
While A.J. continues to thrive in the spotlight more than she does, Katherine is content to cheer on her husband from the sidelines. A proud mom of three, Katherine never regretted her decision to step away from the public eye.