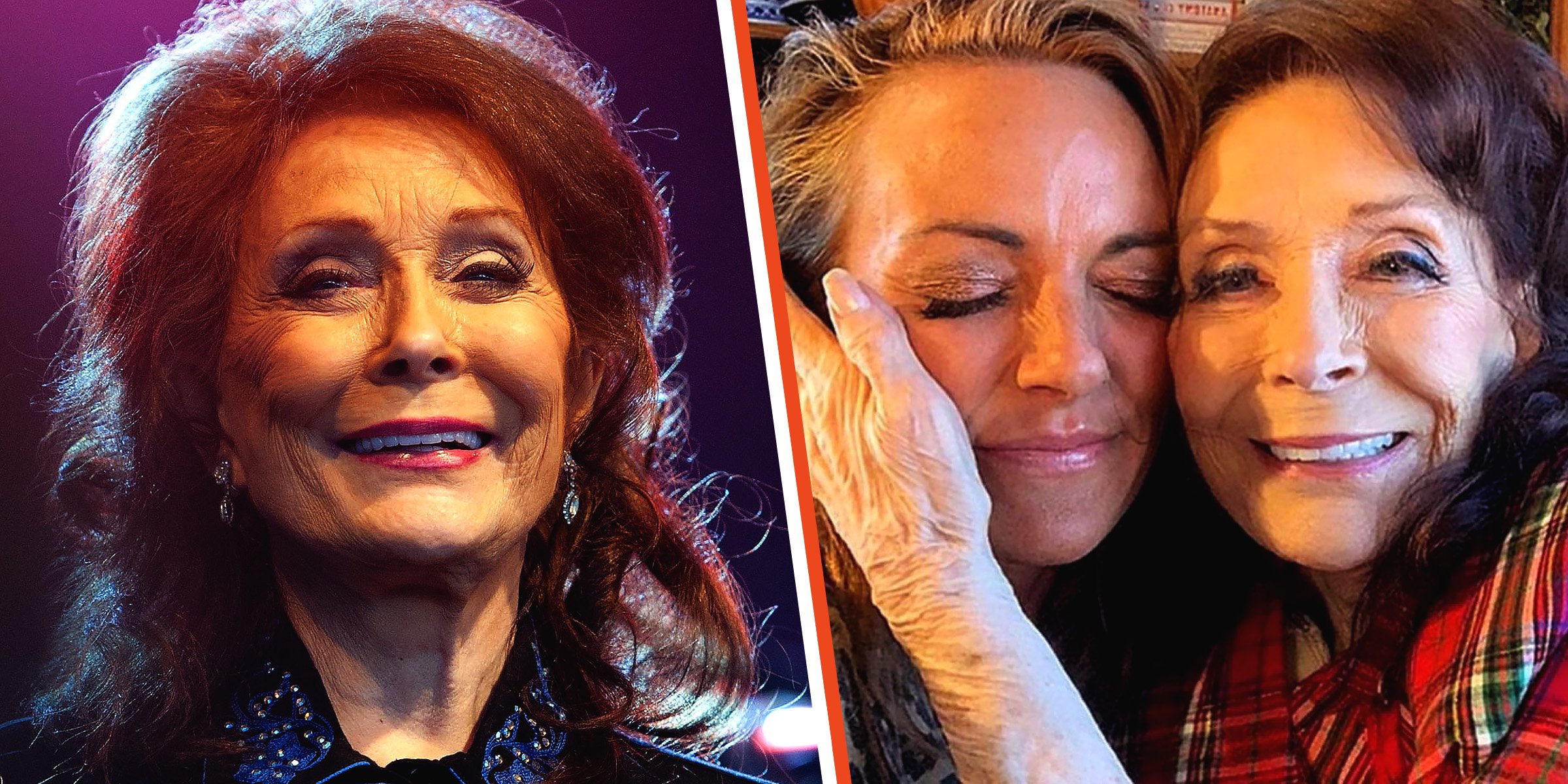 Loretta Lynn | Loretta Lynn and Tayla Lynn | Source: Getty Images | Source: Instagram.com/taylalynnfinger
Tayla Lynn Is Loretta Lynn's Granddaughter Who Is Also a Country Singer

Loretta Lynn's granddaughter, Tayla Lynn, had a turbulent life that she overcame with her grandmother's help. Tayla is also a country singer and has been significantly influenced by Loretta to become a better person.
Loretta Lynn, one of the music industry's biggest country stars, has a granddaughter who followed in her footsteps as a singer and songwriter.
Meet Tayla Lynn, an equally talented artist who had to overcome dark days before becoming known in the music scene.
Tayla Lynn Didn't Know That Her Grandmother Was a Music Icon
Loretta, or Memaw, as Tayla would call her, provided a safe space for her granddaughter growing up. They had a close relationship that had both respect and friendship.
After graduating high school, Tayla moved into Loretta's Nashville home after living in a home where her stepfather abused her. Relocating to Loretta's house was the beginning of Tayla's downward spiral. However, the "Coal Miner's Daughter" songstress did not stand by to see Tayla waste her life.
Loretta played a significant role in Tayla's journey toward becoming the best version of herself. Tayla previously said:
"To this day, my grandmother and I are soulmates, and neither of us say that lightly. Something in our relationship was formed 25 years ago that is still a light for both of us."
The older Lynn has also positively influenced Tayla's career. In her younger years, Tayla was unaware of her grandmother's fame. However, sharing the same beautiful voice, Loretta would sometimes bring her on the stage to sing.
It wasn't until the late '90s that the country star pushed her granddaughter to pursue a career in music. Loretta asked her to hit the road and play shows despite being new on the scene.
"She just taught me everything I knew in those years. I tried out different songs, and we would figure out what worked for me and what didn't, and that's when I started talking to some record labels," Tayla said.
Tayla's career took off within years; by 2010, she became one-third of a country music trio. She also had songs that became hits in country music.
While gaining fame on stage, Loretta would sometimes question Tayla's choices, from the revealing clothing she wore on stage to her honesty when it came to her past struggles.
As Tayla would recall, Loretta told her that "country music is about family" and that whatever the younger Lynn would do on stage would reflect on her grandmother. "I'm proud of you and what you're doing, but you've got to figure out a different way to tell your story," Loretta would say.
Tayla's Memaw has been a constant source of strength and support in her career and personal life. She often speaks about Loretta in a positive light to others.
Tayla Lynn Overcomes Her Darkest Days
Before becoming sober, Tayla was once trapped in her personal darkness, a battle her grandmother helped her overcome. It was Loretta that first took the initiative to push her toward rehabilitation and became a constant force in encouraging her to escape her struggles.
The crazy concert scene ignited Tayla's problems, and although challenging, Loretta handled her disappointment subtly. "I wasn't allowed to go on the road," Tayla recalled. "Going on the road with her was like heaven to me [...], but she wouldn't allow it if I got myself in any trouble."
It was only in 2004 that she genuinely sobered up for the first time. Although it wasn't a straight journey from there, Tayla always managed to rise above the challenge.
Loretta Lynn's Death Has "Forever Changed" Her Granddaughter's Life
In a touching tribute in the wake of Loretta's death, Tayla revealed that the country superstar's passing forever changed her life. "This loss. This grief. We all feel it. You feel it like I do. Like the family. You are family. To her you were her family for so very long.," she added. "[She] wasn't just ours. She was yours too."
The "You Ain't Woman Enough" songstress is survived by her four children, Ernest, Clara, Peggy, and Patsy, and her grandchildren and great-grandchildren.