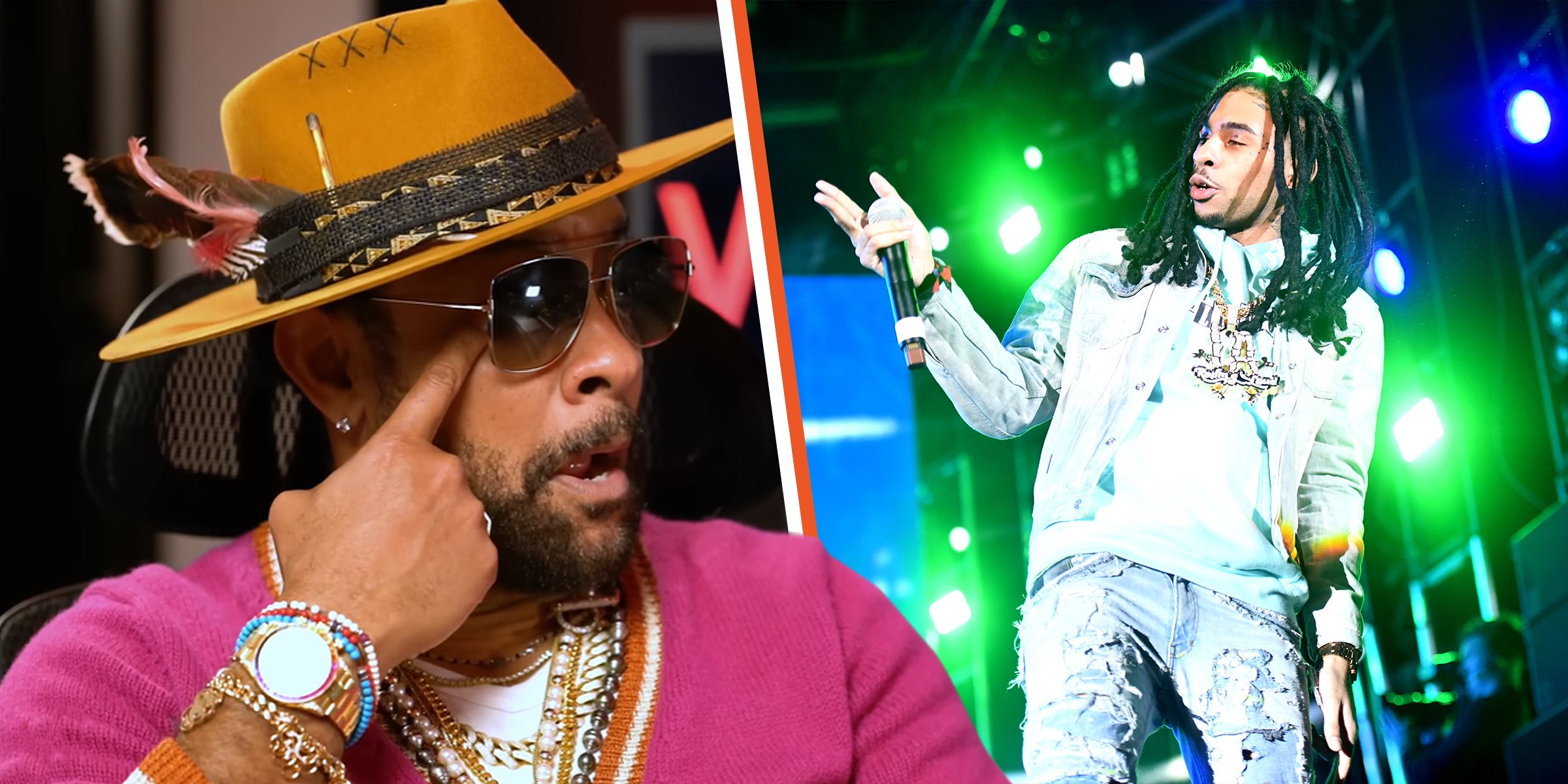 Shaggy | Robb Bank$ | Source: Getty Images | Source: Youtube.com/djvlad
Robb Bank$ Is Shaggy's Son – Dad Did Not Know He Is a Popular Rapper at First

Although Shaggy's son, Robb Bank$, grew up close to him, the "It Wasn't Me" singer did not know that his son was making waves as a rapper until after Bank$'s fame.
Self-made men and women in the entertainment industry are pegged as role models for those aspiring to be artists. It is why American rapper Robb Bank$ has many fans inspired by his story.
The New York-born performer saw his parents, Shaggy and Carol Burrell, divorce at a young age. He ended up living under his mother's wing in Florida, away from Shaggy.
Robb Bank$'s First Success
Born Richard O'Neil Burrell in 1994, the singer was the elder of two siblings. His father was also a recognized singer known for hits such as "It Wasn't Me" and "Angel." However, Bank$ didn't get to watch his father's success as his parents separated when he was six.
By the time Bank$ was a young boy, his father's moment of fame had already passed, so he didn't recognize Shaggy as a celebrity. During his growing years, Bank$ found interest in Japanese Manga, Pokemon, and Dragon Ball Z.
When he wasn't preoccupied with anime, Bank$ practiced music in the four corners of his bedroom. It wasn't until 2012 that he tasted fame through Tumblr. Operating under the username TumblrGod, Bank$ used the platform to share his interests with followers.
Soon, recognized musicians, such as A$AP Yams and SpaceGhostPurrp, took notice of his taste in music, fashion, and art and began promoting him on their social media accounts. Before he knew it, Bank$ had fans from different locations.
His solo tape, "Calendars," also took off in 2012. It became an avenue for Bank$ to discuss his point of view as an angst-ridden teen. Those who listened to his release knew that Bank$ was a natural-born rapper, gravitating towards the likes of A$AP Rocky and Odd Future, who later became his friends.
Robb Bank$ Is a Self-Made Rap Artist
Before making his presence known in the music scene, Bank$ gained inspiration from mainstream rappers, including Notorious B.I.G, Brother Ali, Atmosphere, and Webbie, who he would study in his bedroom.
Initially, he thought that dreaming of becoming a rapper was out of his league, but it only took a few years for him to make it happen. Bank$ said:
"I can't just think of this as 'rap.' I love it. I do. I look at myself in the mirror, [and] I say, 'Aye bruh, you dropped [out of] school, this is [your] job now [...]."
Shaggy Didn't Know His Son Is a Rapper
Shaggy acknowledges his son's talents but admits that he did not know Bank$ was making waves as a rapper until after he had a large fan base.
"Actually, I didn't know he was rapping until way afterward when it was brought to my attention," he said, despite their close relationship.
As of writing, Bank$ has over 180 thousand followers on Instagram and about 380 monthly Spotify listeners.
Robb Bank$'s Latest Projects
Bank$'s May 2022 concept album, "Falconia," found a way to incorporate his previous interest in Manga. On Kentaro Miura's, a Manga artist first death anniversary, the rapper released a tribute inspired by the dark fantasy manga through his album.
He also released a song, "Griffith Did Nothing Wrong," in 2017 that paid homage to Guts, Griffith, and Casca's adventures in the Manga. In recent years, Bank$ has also been collaborating with Rich Gan Management while founding a company, 430 Entertainment.
"You're still going to get content from me," he said. "But there will be no more 'Robb Bank$' projects. No more full bodies of work." Admittedly, the artist's short attention span drove him to pursue new things when time permits.
Other rappers have ventured into different crafts after reaching fame, including Ice-T, who became an actor starring in "Law & Order: SVU." He often shares behind-the-scenes photos of his life as an actor and role as a husband and father.