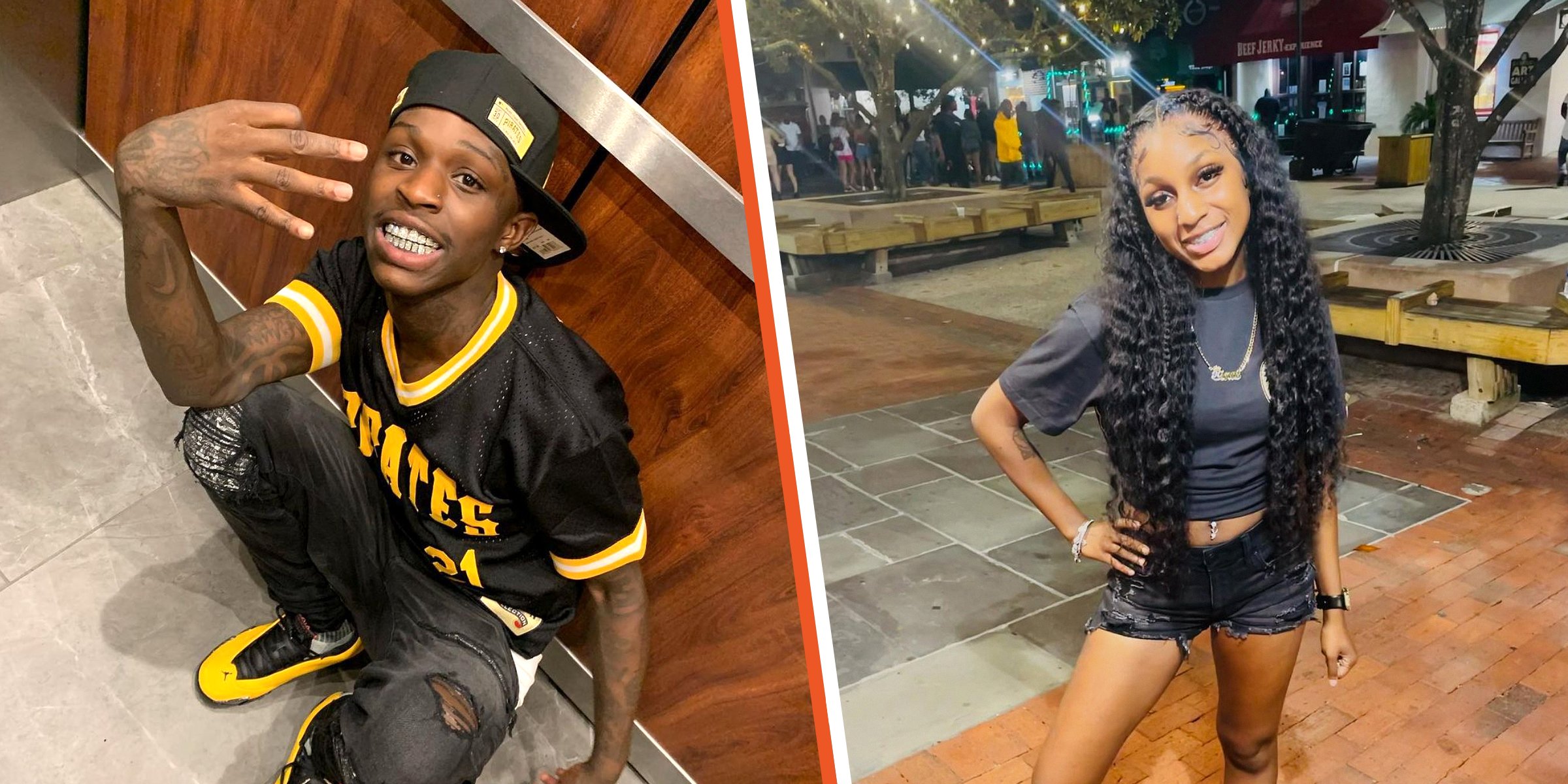 Quando Rondo | Jaliyah Monet | Source: instagram.com/kii.yaaah | instagram.com/quando_rondo
Quando Rondo's Girlfriend Jakiyah Is Now His Fiancée While He Fathers Daughter with Ex

23-year-old Quando Rondo found fame when he dropped his "I Remember" song featuring Lil Baby. But, after three years on the world stage, he is making another huge commitment, this time to his partner. Quando Rondo's girlfriend, Jakiyah, received a ring last month and is now his fiancée, while he fathers a child with an ex-lover.
Quando Rondo's former girlfriend Jakiyah may just be having the time of her life as a recent high school graduate.
The 18-year-old enjoyed attending her school's prom and has been in a relationship with the "I Remember" crooner. Fans would remember that the Georgian-born rapper, singer, and songwriter dropped three mixtapes after his song with Lil Baby in 2018.
His consistency in the industry made him more famous. Recently, the promising rapper escaped death after a targeted shooting that claimed his friend's life in a Los Angeles gas station.
Following the tragedy, Rondo appears to appreciate every moment of his life and has made new commitments. Expectedly, fans are interested in his personal life, particularly his romance with a much younger lady. Read more about Rondo's love life that took a new turn.
Who Is Quando Rondo's Girlfriend?
Rondo's favorite lady is an 18-year-old named Jaliyah Monet, aka Jakiyah. Not much is known about her family or background, but fans can tell she invests a lot of time on social media.
Rondo appears to be madly in love with his beau, but there is also another lady who occupies his heart. In addition, the rapper is a dad to his toddler daughter, Italy.
Jakiyah came to the limelight in 2021 following her involvement with Rondo. The young adult has since built her social media presence and boasts more than 120,000 followers on Instagram, while she runs a joint Youtube channel with her lover.
Despite the age difference, Rondo seems content with his lover. Since announcing their relationship last year, he has been very open about their time together, sharing numerous photos of them kissing and hugging.
On the other hand, Jakiyah's Instagram feeds feature snaps of herself in school, at home, or during an outing. Last year, she shared photos showing that she was a high school senior.
In April, Jakiyah proudly flaunted images of herself in a white prom dress, attending the event of the year! A few weeks later, her followers were treated to snaps of her graduation ceremony from SCJ.
Quando Rondo Proposed to His Girlfriend
Just months after her graduation, Rondo's girlfriend dropped her former titles for new ones — she became a graduate and also a fiancée!
It almost seemed surreal to fans as the couple broke up last year after the rapper accused Jakiyah of being unfaithful. Although Rondo revealed he was not bothered because of his riches, it appears that they only broke up to become stronger.
Just weeks after the Los Angeles shooting where his friend died, Rondo made a new decision about his relationship. The 23-year-old cemented their bond by proposing to his 18-year-old beau.
About a month ago, the proposal video surfaced. Rondo was kneeling in what looked like a kitchen as his lover sat at the dinner table. Before popping the question, he entertained Jakiyah by singing the words:
"This feels like forever, I've waited for you. It's a world of disappointments."
Rondo did not wait for an answer before slipping the ring on the engagement finger. Even though it was on the wrong hand, Jakiyah appeared thrilled as she kept smiling, blushing, and sipping from her cup.
Despite what looked like a blissful moment between the lovers, many fans had reservations about it. A few commenters were shocked that Rondo proposed to his younger girlfriend. One person wrote:
"Quando Rondo is 23 and just proposed to an 18 year old a week after dropping his flag via internet. What be wrong with these [expletive] now days (sic)?"
Another added, "Quando rondo marrying a girl that just turned 18 is [expletive]!" A third fan quipped: "Quando Rondo proposed to tht lil girl, god if I'm never going be a Wife, just say tht [sic]."
Quando Rondo Co-parents Daughter with Ex
Quando Rondo appears to be madly in love with his beau, but another lady also occupies his heart — the rapper is a dad to his toddler daughter, Italy.
Italy's mom is Jai Doll, the rapper's former girlfriend, whom he dated in 2019. Although he is not in a relationship with Jai Doll, Rondo is very involved in their daughter's life.
The 23-year-old is a doting dad who flaunts his admiration for the tiny tot. On several occasions, he has uploaded snaps showing the father-daughter bond as they spend time together.
Last Christmas, the duo rocked matching Burberry outfits while posing in front of a Christmas tree. This was not the first time they would be twinning with their outfits.
They posed on a basketball court a year ago wearing similar pants and round-neck shirts. Like her father, Italy has already amassed fans through her Instagram account.
It is not known whether her mother or father runs the page, but one significant detail on the page shows that the little princess already owns a clothing brand.
Italy might just have inherited her entrepreneurial skills from her mother. Jai Doll, who has high followership on Instagram, describes herself as an entrepreneur.
Her bio also contains a link to her hairstyling and beauty business. Quando Rondo seems to be in a good place. He is a grateful young man who has learned to count his blessings.
Despite his failed relationship with his ex-lover, he remains a loving dad and is hopeful for a future with Jakiyah, his fiancée.