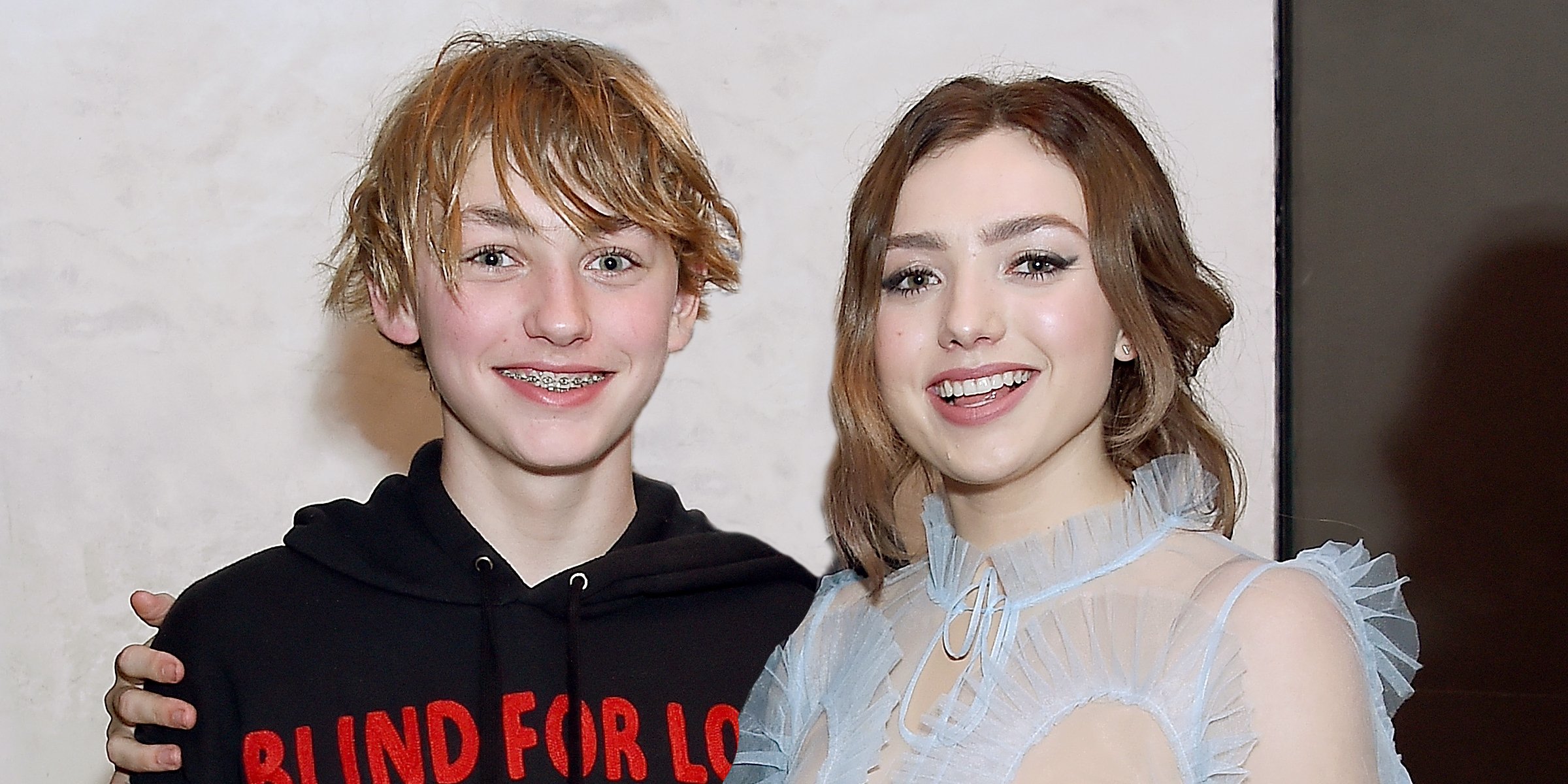 Peyton List and Phoenix List | Source: Getty Images
Peyton List's Brother Phoenix List Is Also an Actor – What We Know About Her Younger Sibling

Peyton List's brother, Phoenix List, has a few acting credits under his belt. However, he enjoys making the most of his youth and living privately.
Although "Cobra Kai" star Peyton List has a twin brother, Spencer, it was her younger sibling that fans mistakenly thought was just another look-alike. Her other brother, Phoenix, caught fans' attention with his strong resemblance to his sister.
In previous Instagram posts, Peyton's followers could not help but notice that Phoenix is the actress' male version. However, physical appearances are not all they have in common.
While Phoenix's sister is building her career in Hollywood, he is also taking the necessary steps to make his name known in the entertainment industry.
All about Phoenix List
Phoenix was born on September 18, 2004, and turned 18 in 2022. His famous sister gave him a birthday shoutout on Instagram the year before, revealing that she would always dress him up. The tribute came along with a video of Phoenix having his hair done and a throwback photo of the two siblings.
Although he grew up on the East Coast with his family, Phoenix moved to Los Angeles when his sister started getting more projects. It was during this time that she pursued an acting career in Hollywood.
Initially, only Phoneix's mom would go with Peyton, but after missing her children, they decided to all move across the country.
During his free time, Phoenix helps in his mom's succulent business and has been called her PR manager. He sometimes appears on his mom's Instagram, where snippets of his life can be seen. In 2022, Phoenix's mom made it known that he had reached a milestone by taking his braces off.
Phoenix List Follows in His Siblings' Footsteps
Eventually, Phoenix took the same career path as his older siblings and dabbled in the entertainment industry. He has since had some on-screen roles in "Rabbit Hole" (2010), "Vegas" (2012), and "American Viral" (2014). Not much has been known about his career in recent years.
It appears that Phoenix has been enjoying his youth through experiences with his siblings. In 2022, he attended the Revolve Festival at Coachella with his brother, Spencer, and friends. He shared a few snippets of the event on his Instagram account.
Phoenix and Spencer share a close bond. As seen in the younger List's Instagram photos, they have gone on trips to Portland, Oregon, and Seattle, Washington, in the past years. The duo looked stylish as they posed for photos together while having their "Boys' time."
Meet Phoenix and Peyton's Brother, Spencer List
Phoenix's brother is also an actor with several acting credits to his name, including "Hard Sell," "Night Has Settled," and "The Bachelors." His other roles are in "Bringing Up Bobby," "Black Dog Red Dog," "Mockingbird," and "Bereavement."
Spencer also became a Disney and Nickelodeon star, appearing on "Bunk'd" and "iCarly." His other minor screen roles were in "Fringe" and "CSI: Miami."
Unlike Phoenix, Spencer found it difficult to move across the country for his sister's career. He penned a college essay about the topic around that time. However, all is well with their family now, and Spencer seems to have adjusted to the situation.
While his and Peyton's careers are on the rise, fans can keep an eye on Phoenix. The possibility of him returning to acting is not far-fetched, but for now, he is enjoying life more privately than his other siblings.
Many Hollywood stars have family members who follow the same path in show business. However, others would rather live a private life, such as Willem Dafoe's only son, Jack Dafoe, who was never interested in being an entertainer.