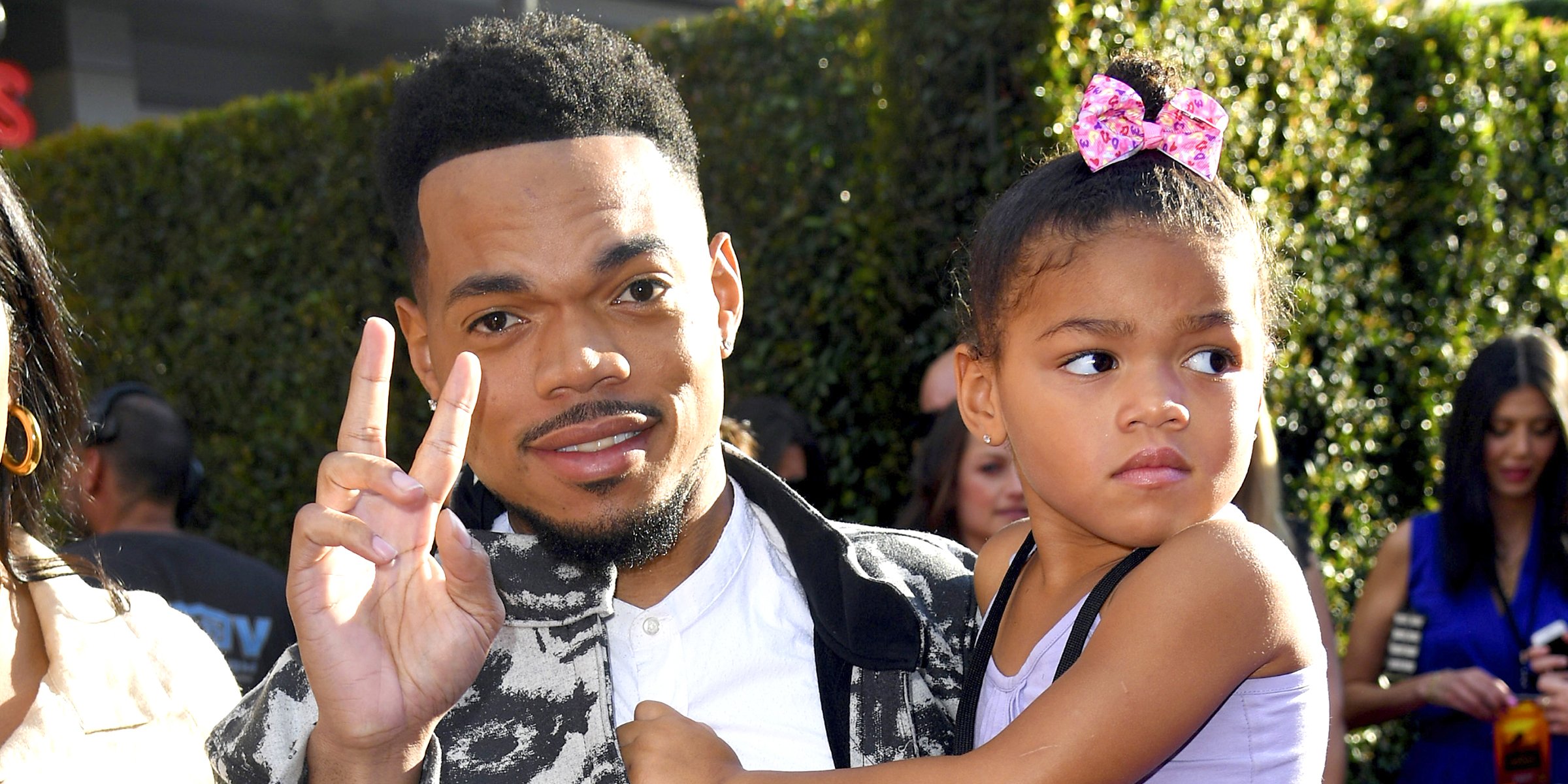 Chance the Rapper and his daughter, Kensli Bennett. | Source: Getty Images
Kensli Bennett Is Chance the Rapper's Daughter He Welcomed at 22 - Meet Her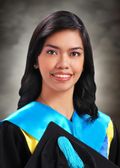 Kensli Bennett is the daughter of rapper, singer-songwriter, and record producer Chance the Rapper, whom he welcomed when he was 22 and just figuring out his way in the music industry. The little girl completely transformed her father's life.
While the musical talents of Kensli Bennett's father, Chance the Rapper, have been recognized in the industry, the little girl appreciates his selfless acts. She was only seven when she witnessed her father's generosity as she helped him distribute books to children in Chicago.
Kensli and her generous father once traveled to Italy, which the latter documented in a video on Instagram. She explored not only the country's vastness but also discovered how loving her father was throughout their time there. During their trip, she thanked him with a tight hug at the end of the clip.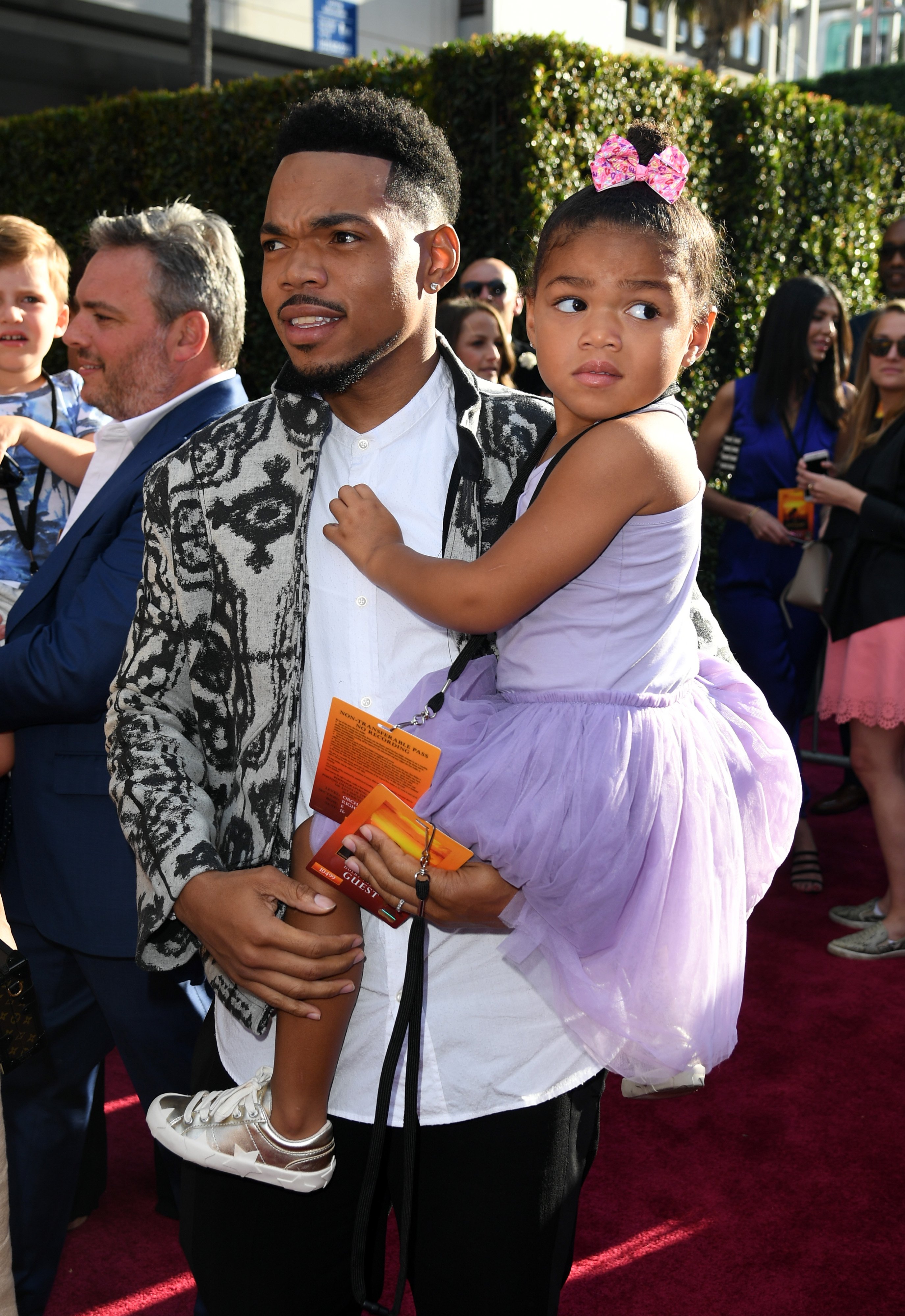 Chance The Rapper and Kensli Bennett at the premiere of Disney's "The Lion King" on July 9, 2019, in Hollywood, California. | Source: Getty Images
Meet Kensli Bennett
Kensli was born on September 20, 2015, when her father, then 22, was still struggling for musical stardom. In a lengthy Instagram message, Kensli's father detailed his feelings of pride and happiness at becoming a father. He wrote:
"I love this time in my life, and I've learned to love better because of it."
Additionally, she was a positive force in her father's life. In an earlier interview, the talented rapper said that his daughter's birth made him rethink his goals and reorder his priorities.
According to the hip-hop star, becoming a father was a "strange process." Kensli's father believes that the new milestone in his life broadened his perspective, and he now fully understands how his friends with children feel.
Kensli's talent for dancing is already preparing her for future stardom while also allowing her to make friends with other celebrity children.
Before his daughter, the acclaimed music artist added that he had never been as happy as his friends. Kensli not only helped him in his personal life, but she also helped him advance his career.
Kensli was the inspiration behind her father's 2016 mixtape "Coloring Book" and the hit song "Ultralight Beam," which appeared on Kanye West's album "The Life of Pablo."
When Kensli's dad won the "Best New Artist" category at the Grammy Awards in 2017, he expressed gratitude to those who supported him in making his music, including his adorable daughter.
Amid his meteoric rise to fame, Kensli's father never forgot his duty as a parent. When Kensli was only three years old, he took her on an ice cream date in Los Angeles and praised her for how well-behaved she was during the trip.
In 2019, Kensli had her first day of school, and her dad was there to drop her off. On that day, she looked her best in a pink dress topped with a raincoat outlined with pink and yellow stitching.
Kensli Is Quite the Dancer
Kensli's talent for dancing is already preparing her for future stardom while also allowing her to make friends with other celebrity children. Her father once shared a video of her and West's son Saint dancing to Michael Jackson's "Thriller."
Kensli danced to the beat while wearing a simple white and gray shirt paired with jeans, alongside West's son, who donned a Chicago Bulls shirt, jacket, and dark pants in the adorable video.
In another hilarious video, Kensli busted a move to convince her mother and Chance's wife, Kirsten Corley, to take her out to dinner. The little girl, dressed in a blue jumpsuit and boots, smiled as she danced with her closed fists moving up and down.
Kensli also danced with her father in the family night talent show. In front of the rest of her family, she imitated her father when he made a funny snake-like motion by sliding his hands from left to right.
Kensli Isn't Shy to Declare Her Love for Dad
Kensli isn't the type to keep her love for her famous dad a secret. In March 2020, the charming girl wrote a short but heartfelt message in her notebook and sent it to her father, who later shared it on his Instagram, which read:
"Dad, I love you. Love, Kensli."
Overwhelmed by the little girl's touching and sweet gesture, Kensli's dad expressed his feelings publicly and wrote: "I love u more than you'll ever even know." She has another photo where she imitated her father's signature pose.
Kensli Is a Doting Big Sister to Marli Grace Bennett
In 2019, Kensli welcomed her younger sister, Marli Grace Bennet, making her a big sister for the first time. The kids share a striking resemblance to Kirsten's husband.
Kirsten noted the strong bond Kensli has with Marli. The little girls enjoy each other's company regularly, from dressing up in fun costumes for Halloween to dressing up nicely for a photoshoot.
In September 2019, Kensli's dad wrote a long, honest Instagram post about his challenges as a musician and a parent. While producing hit music is a significant accomplishment in his life, being a father and husband is his proudest feat.
He admitted to missing some of his family's most important milestones, such as Kensli's birth, and vowed never to do so again. He realized he had to help his wife raise their two young daughters by being "as helpful and available as possible."
The rapper continues to balance his time for his family and his career. According to one of his Instagram videos, he recently traveled to Italy with Kensli, and she gave her father a sweet, tight hug.
The doting dad also went to Chicago with Kensli to give books to the children. He taught his daughter the importance of giving back to the community, believing that such a generous act is more important than money or material success.