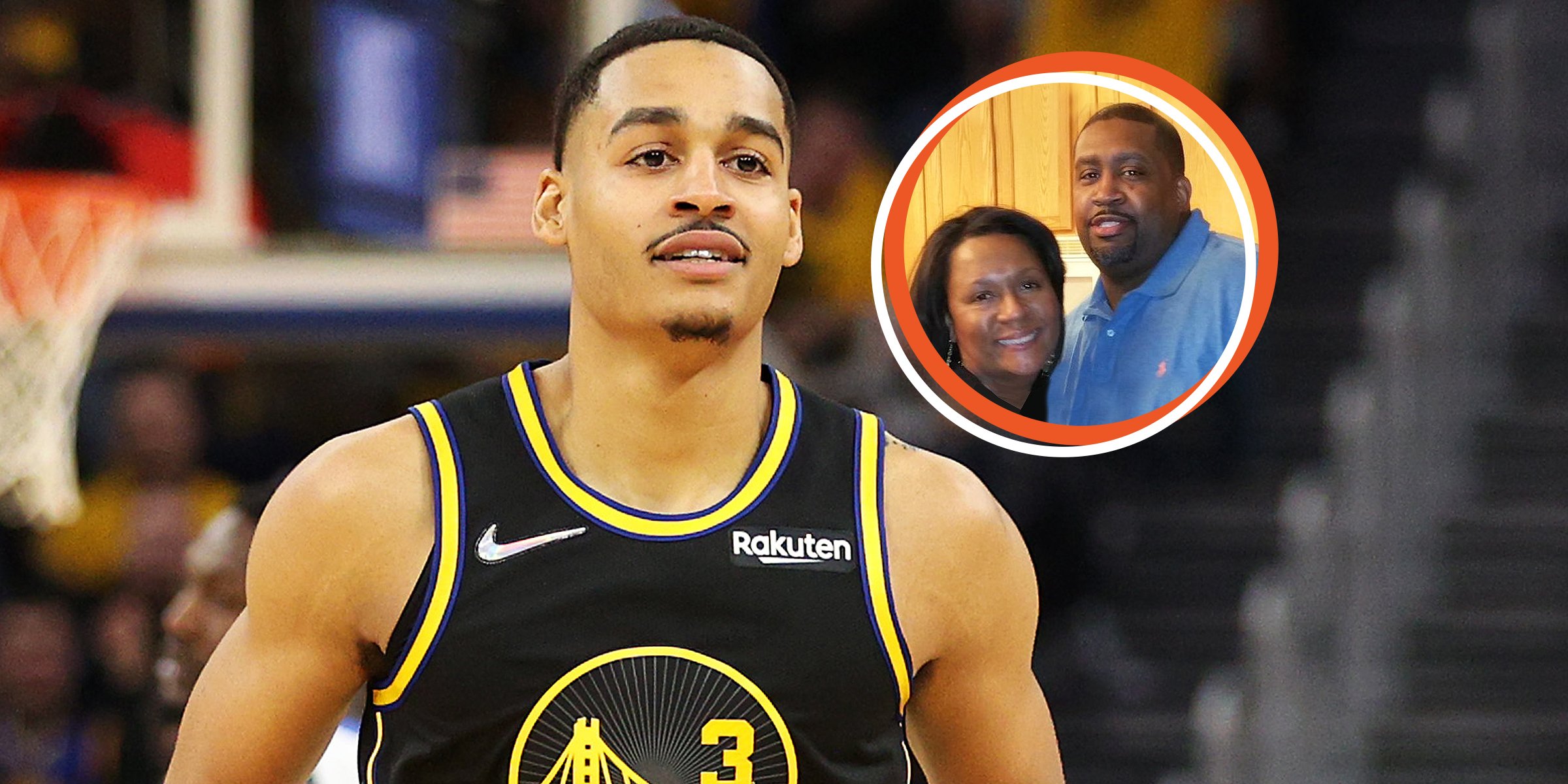 Jordan Poole| Jordan Poole's parents, Monet Poole and Anthony Poole | Source: Getty Images | Twitter.com/apoole98
Jordan Poole's Parents Prepared Him for His NBA Career – Meet Monet Poole & Anthony Poole

Jordan Poole's parents, Monet Poole and Anthony Poole, significantly influenced his sports career. As a child, Jordan's father coached him in basketball, teaching the NBA star valuable life lessons.
NBA player Jordan Poole agreed to a four-year extension with the Golden State Warriors, a deal that cost up to $140 million.
Poole has been playing for the Warriors for four seasons, with his numbers improving as time passes. His contribution to the team's 2022 title was significant, averaging 17 points, 2.8 rebounds, and 3.8 assists in the playoffs.
According to Jordan, his extension makes him secure for the future. "There's another level you can take it, knowing that your family is taken care of, friends taken care of, anything that you need to do is essentially done other than play basketball," he said.
As he embarks on this journey, Jordan's parents show their support all the way through as they have done in the past.
Who Are Jordan Poole's Parents?
Jordan's parents, Anthony and Monet Poole, raised their son in Milwaukee, Wisconsin. Interest in sports ran in the family long before Anthony and Monet had their son.
Anthony was a high school basketball player but transitioned into playing football during college. Similarly, Monet was a high school athlete, although her participation in sports did not continue in college.
Anthony and Monet Poole Raised a Respectful Athlete
The couple eventually became their son's influence in basketball, and when they saw talent, Anthony and Monet molded Jordan into the basketball player he is today. When the Warriors guard was still a kid, Anthony would take him to the Bucks season and study Ray Allen's movements.
His love for basketball would continue at home, where they would watch Michael Jordan highlights. Even as a kid, Jordan already showed an eagerness to play but was too young to hang out with the adults who would go to the gym Anthony ran. Anthony recalled of his son:
"One time, he was trying to throw it underhanded, and I just went up to him and said, 'Man, if you [are] going to do this, you got to shoot it the right way. You got to shoot it above your head.'"
Jordan continuously showed determination to learn the sport, and by third grade, he was already shooting three-pointers. As a pre-teen, he could already play with the older basketball players without being left behind in points.
Anthony always gave his son a pep talk through challenging games, teaching him to play with integrity and respect regardless of the situation.
Anthony eventually became his son's coach, but even then, the young athlete never got a pass. Anthony was especially strict with his son, wanting to bring out the best in Jordan. Anthony taught his boy to challenge everything in the right way – humbly and respectfully.
By 2020, Anthony knew his son was going to become a star. One day, after a great gym session, Anthony went home to Monet and told her that their son would become a professional. Within a few years, his words became a reality.
Anthony and Monet became constant sources of support and inspiration for their son. When it was time to celebrate Jordan's success in the NBA championship, Anthony and Monet ensured they were there to show their pride.
Jordan Poole's Altercation with Draymond Green
In October 2022, a video of Draymond Green attacking Jordan made its way to the internet. What started as a verbal argument turned into a physical altercation, with Green throwing the first punch.
The coaches and other NBA stars began pulling Green away. Fortunately, Jordan seemed to be unharmed. Jordan later revealed that he and the other athlete had since talked things out in an attempt to mend their relationship. Green also apologized to his teammates while Jordan was in the room.
This was not the first time Draymond Green made headlines for getting into a fight with a fellow athlete. Previously, he and Tristan Thompson reportedly had a physical argument at a Los Angeles nightclub.