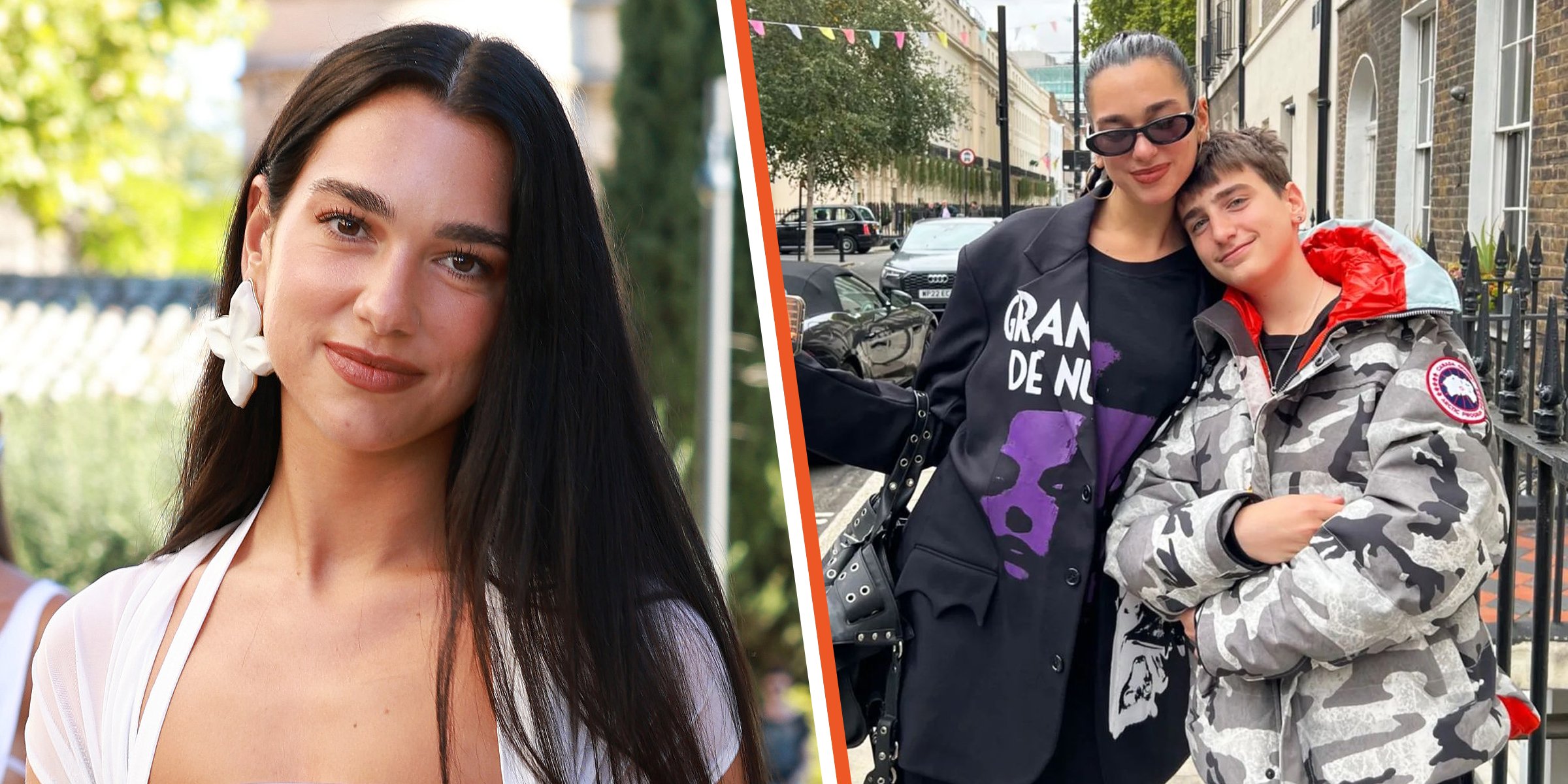 Dua Lipa | Dua Lipa and Gjin Lipa | Source: Getty Images | Instagramfranvphillips
Gjin Lipa Is Dua Lipa's Brother and Her 'Trusted Sidekick' at 16 - Facts about Him

Dua Lipa is one of the most famous singers in the entertainment industry. Aside from performing worldwide, she enjoys spending time with her family, including Gjin Lipa, Dua Lipa's brother.
Dua Lipa is known globally for her singing talent and is quite close with her family. She often brings them to her industry events, and her brother Gjin Lipa also attended the Global Awards 2020.
Gjin watched his older sister accept an award for Best British Act in 2020. Dua Lipa's brother's other family members were also present at the event, including his parents and another sister.
Gjin and the Lipa family received a special shoutout as Dua thanked them during her acceptance speech and gave her father a birthday shoutout. In 2018, Gjin was on stage when Dua made her acceptance speech after winning the British Breakthrough Artist award at the Brit Awards 2018.
Dua revealed during her speech why she took Gjin and her younger sister with her on stage. She said she thanked everyone responsible for her album and her family and had told her siblings "to believe in magic because it's real."
She said that moment was the closest she had come to it, so she "wanted them to experience it firsthand." Gjin was also thrust into the spotlight when his sister rose to fame.
Meet Dua Lipa's Brother, Gjin Lipa
Dua Lipa's brother Gjin Lipa was born on December 30, 2005. He rang in the New Year 2022 by announcing he was 16 when he shared a post on Instagram. On his 15th birthday, his sister Dua gave him a special tribute on Instagram and called him "the funniest, coolest, most kind" young man. She expressed in the caption how proud she was of him.
The singer also said she loved him and was lucky to be his sister. Gjin's sister ended the caption by saying he should "swipe till the end for a surprise." Among the photos Dua shared, the first is of her kissing her brother, and the second shows the three siblings together in stylish outfits. There's also a cute snap of the brother and sister; the rest are of Dua, Gjin, and their sister Rina.
The last post is an old video of Gjin singing and playing a toy guitar. As shown in the video where he was rocking a toy guitar, he seems to have an affinity for music like his older sister.
Gjin was born in England, like his siblings, after his parents fled Kosovo. In 2006, when he was a year old, his parents brought the family back to Kosovo, deeming it safe enough to return. The youngster seems to have been named after his father, Dukagjin.
Gjin Is Dua's "Sidekick"
Gjin Lipa has a very close bond with his siblings. While his sister Dua chases her dream of becoming a singer and successfully does so, she brings Gjin along when she goes on tour and calls him her "sidekick."
When Dua was in Canada for her The Future Nostalgia tour in July 2022, she took her brother Gjin. She shared a series of photos on Instagram, which showed her and Gjin at the park having fun and enjoying a meal together. The "Sweetest Pie" singer also posted snaps of them walking around and in their hotel room.
Dua Lipa's brother may have a few posts on his Instagram, but he makes sure he shares pictures with his two older sisters and captions them with heart emojis. Some fans took notice of Gjin's resemblance to his eldest sister, and most commented by saying he was a "copy of dua lipa." Other fans expressed their thoughts on his looks, noting that he was good-looking like his eldest sister.
Meet Gjin and Dua's Other Sibling, Sister Rina
Gjin and Dua Lipa's other sibling Rina also lives her life in the spotlight. The 21-year-old pursued a career in modeling and is already getting noticed in the industry. Rina Lipa made her runway debut in 2021 at Milan Fashion Week.
The model seemed to be quite an influencer and was referred to Tatler magazine in 2022 as the "Gen Z It Girl." She has a massive following on social media, and at the time of this writing, Rina's follower count on Instagram already soars at 947K and counting.