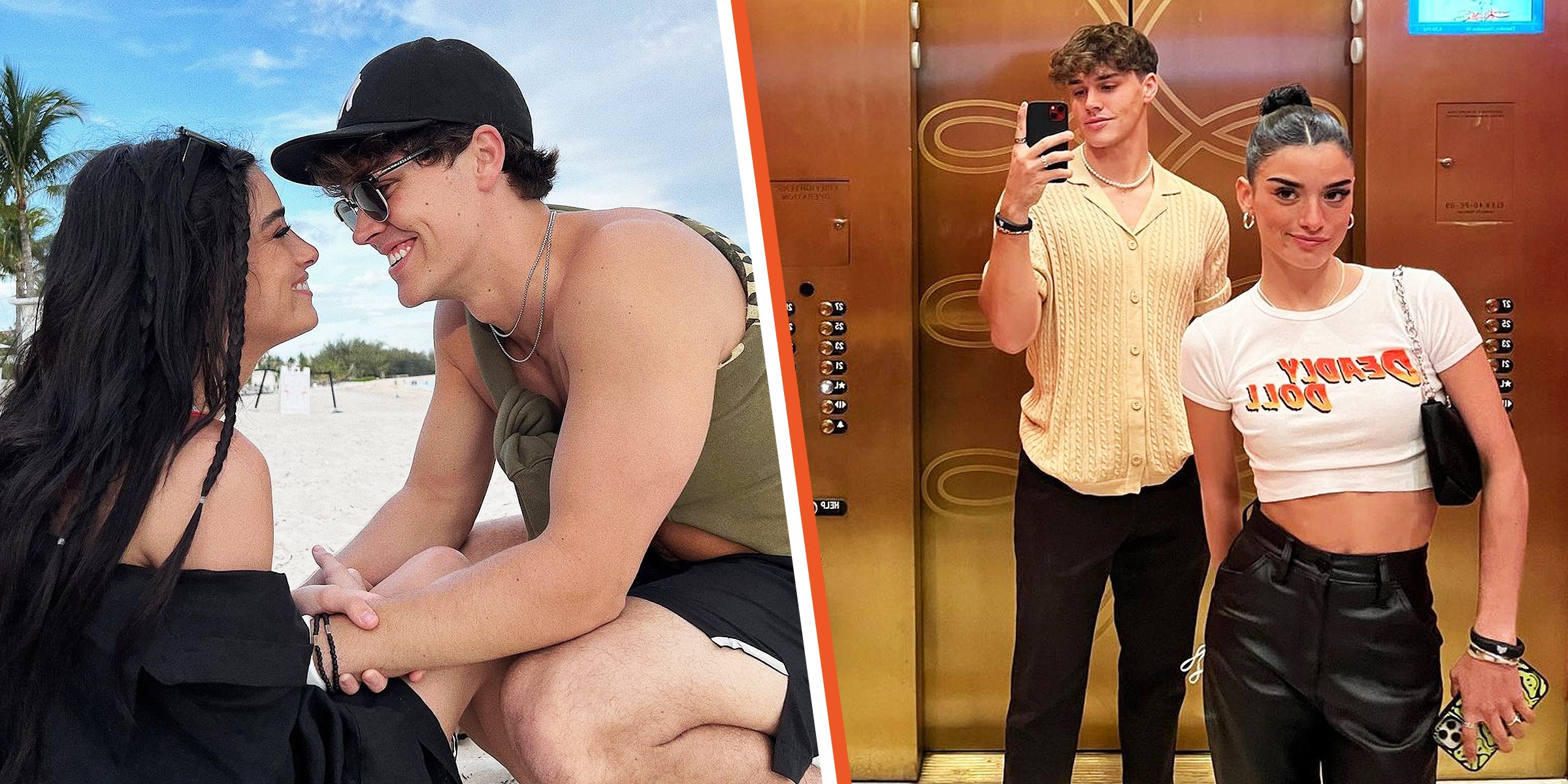 Dixie D'Amelio and Noah Beck | Noah Beck and Dixie D'Amelio | Source: Instagram.com/dixiedamelio | Instagram.com/noahbeck
Dixie D'Amelio and Her Boyfriend Noah Beck Keep Their Love Private - Timeline of Their Relationship

American social media personality Dixie D'Amelio and her TikTok content creator boyfriend Noah Beck decided to keep their relationship private. However, the couple, used to sharing their lives on social media, had to deal with the complications of their decision.
Dixie D'Amelio started as a TikTok content creator, and within a year, she became the third highest-earning TikTok star. She is also a reality television star and an aspiring artist who has released some singles and a debut album.
Dixie D'Amelio's boyfriend, Noah Beck, is also a content creator on TikTok. Yet, before he attained celebrity status on social media, he dreamed of becoming a professional soccer player.
The social media stars soon started dating and initially shared their relationship online. Regardless, they later decided to keep that part of their life private, and Dixie said:
"We are together but keeping it offline. Obviously, it does make things more complicated."
Dixie made the statement because even though she and Noah wanted to share their love online, the constant speculations about their relationship status brought confusion.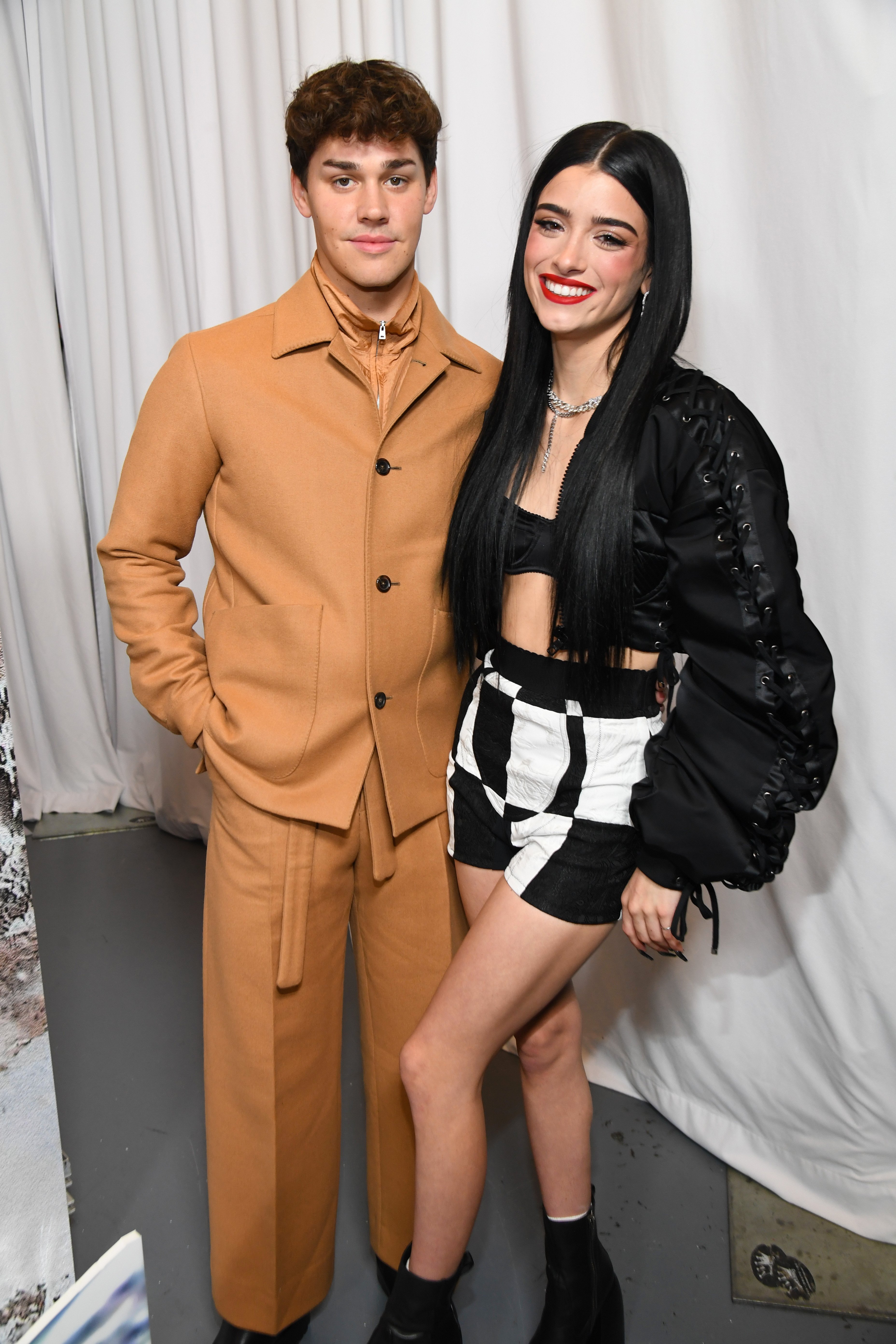 Noah Beck and Dixie D'Amelio at the iHeartRadio Z100 Jingle Ball on December 10, 2021 | Source: Getty Images
Dixie D'Amelio and Noah Beck Have Been Together for 2 Years
Dixie and Noah became friends in 2020 after she broke up with her ex-boyfriend, Griffin Johnson, who is also a TikTok star. She and Noah started posting together, and their friendship evolved into a romantic relationship in September 2020.
Even though she was hesitant because her previous relationship was public, the couple made their relationship social media official in October 2020.
Immediately after the public found out, some people speculated that they were together for publicity and the reality star revealed that she was sometimes overwhelmed by the attention. However, they have stayed strong, and here is a look at how their relationship has been so far.
Dixie D'Amelio Began Dating Her Boyfriend Noah in September 2020
At the end of July 2020, fans noticed that Dixie had unfollowed Griffin on some of his social media pages, leading to speculations that they had broken up.
Shortly after, a girl accused him of lying about his relationship status when he sent her private messages. The situation became a complete social media drama in no time, but the former couple did not confirm the cheating allegations.
A few days later, Dixie took to her YouTube channel to post a video titled "My Last Date with Griffin." She started the video by revealing they had broken up, but the video was shot before the drama and was already on her posting schedule.
However, days before the drama, Noah had posted a TikTok video of him, Dixie, and another social media influencer Nick Austin. This was their first video together as they sang along to Dixie's "Be Happy."
On August 20, 2020, on the first episode of "The Dixie D'Amelio Show," Dixie's sister Charli D'Amelio asked what she did with Noah when they hung out. The reality star laughed before responding that he was cool.
The following day, a paparazzi asked Noah about Dixie and if the rumors were true. He replied that he had no comment but that she was cool.
Two days after the first episode of her show, a paparazzi spotted Dixie and Noah having dinner at the Saddle Ranch in Los Angeles, and they said they were besties.
At the beginning of September, Dixie confirmed that they were just friends, and Noah was not breaking any code as she was friends with him when she was dating Griffin.
That same month, they appeared in a photo together in a photo booth at a friend's birthday party. They also vacationed at the beach together.
Despite insisting they were nothing more than friends, Noah and Dixie spent much time together. In September, with the release of her "Be Happy" remix video, Noah appeared by her side, and they played a couple.
On September 25, Noah asked Dixie to be his girlfriend while they were in Malibu. He decorated the lifeguard post where they typically hang out with candles and rose petals and popped the question.
Two days after they officially started dating, he hinted they were in a relationship on her show. He had asked her to describe her dream boy without describing him.
In early October 2020, Noah officially confirmed for the first time in an interview with AwesomenessTV that he was dating Dixie. He said:
"Dixie is amazing, she is an awesome girl. It's been really fun, and so I'm excited for the future with her."
On October 25, 2020, they celebrated their one-month anniversary, and Noah took to his Instagram story to declare his love for Dixie.
In December 2020, the couple appeared together in a lie detector video, and a little later, Noah said he sees himself married to Dixie as he would not want to waste his time dating someone he would not marry.
In 2021, Dixie D'Amelio and Noah Beck Decided to Make Their Relationship More Private
From the beginning of Dixie and Noah's relationship, he spoke the most about it. In January 2021, he explained why she wanted their relationship to be private. He said:
"She previously got out of a public relationship, so she didn't want to be as public in this one, just because of previous experiences. We wanted to keep everything between us."
On February 14, 2021, they celebrated their first Valentine's Day together, and Noah made sure they had a romantic getaway with lots of presents and an activity-filled weekend trip.
On April 15, 2021, Noah appeared on the Dixie podcast and revealed that he told her he loved her when he starred in her music video. She did not respond to him immediately, but at the end of the shoot, Dixie told him she loved him too.
For her 20th birthday on August 12, 2021, Noah wished her a happy birthday while mentioning that she made his world go round. He also asked his fans to wish her a happy birthday too.
On August 19, 2021, in Noah's interview with GQ, he spoke about his relationship with Dixie. He revealed that he did not have a good relationship with her ex-boyfriend when she was dating him, and out of respect for her relationship, he stopped making videos with her.
Noah also mentioned that he loved Dixie for being herself and would never use her for clout. He said:
"The reason I love Dixie so much is that she's my best friend, and when we hang out, I just feel like I'm hanging out with my friend, but she's also...she's very attractive."
He also loves her dry sense of humor. For the interview, Dixie also gushed about Noah as she said he is always selfless, which is one reason she loves him.
In September 2021, Dixie revealed that dating Noah under the spotlight is a lot of pressure because some people started relying on their relationship when they were only doing their best.
On September 25, 2021, the couple celebrated their first anniversary with a trip to France. They attended the Paris Fashion Week and visited the South of France for a few days.
Dixie also took to Instagram to share pictures of them as part of their celebrations, and in the caption of her post, she wrote:
"Never thought I could love someone as much as I love you, thank you for everything baby 🤍"
The Year 2022 Brought Rumors of a Breakup between Dixie and Noah
After months of showing off shared moments online, Noah and Dixie decided to keep their relationship offline. In February 2022, he talked about why they made that decision. He said:
"We kind of just enjoy time together rather than like seeming like we do it for our fans, in a sense. We're doing it for each other and that's what it's all about."
A month later, Dixie talked about her career and relationships and again about keeping things offline with Noah. Despite their busy schedules, they make it work because that's a part of life.
In April, the couple attended Coachella together and filmed TikTok videos for their fans after a long time. The famous Dixie D'Amelio also appeared in the videos beside her boyfriend, sister, and fellow TikToker Avani Gregg.
In early August, Noah missed Dixie's birthday weekend and received negative backlash from their fans, leading to speculations that their relationship was over.
Noah took to Twitter to ask fans to desist from slandering his name and the names of those he loves. He also informed them that work prevented him from attending her party, but they had no idea what happened behind the scenes.
Continuing his note, Noah implored fans and the consumers of their content to stop assuming the worst between them as they are both hardworking and have to make sacrifices to be successful.
Shortly before her birthday, he had tweeted: "it's almost her day… make her feel the love she deserves." Dixie also dismissed gossip about her breakup with Noah when she spoke on the red carpet with People and firmly stated that they love each other.
Shortly after dispelling breakup rumors, Dixie and Noah attended the Karl Lagerfeld New York Fashion Week celebration, but they did not appear together and showed no PDA.
Toward the end of September, Dixie again denied all rumors that she and Noah had broken up. In an interview, she said that since she and Noah moved their relationship offline, they have been happier and have much more fun.
At the end of September 2022, however, Dixie revealed that she no longer knew what was going on between her and Noah. She said the whole situation stressed her; they were not on talking terms and had broken up after two years.