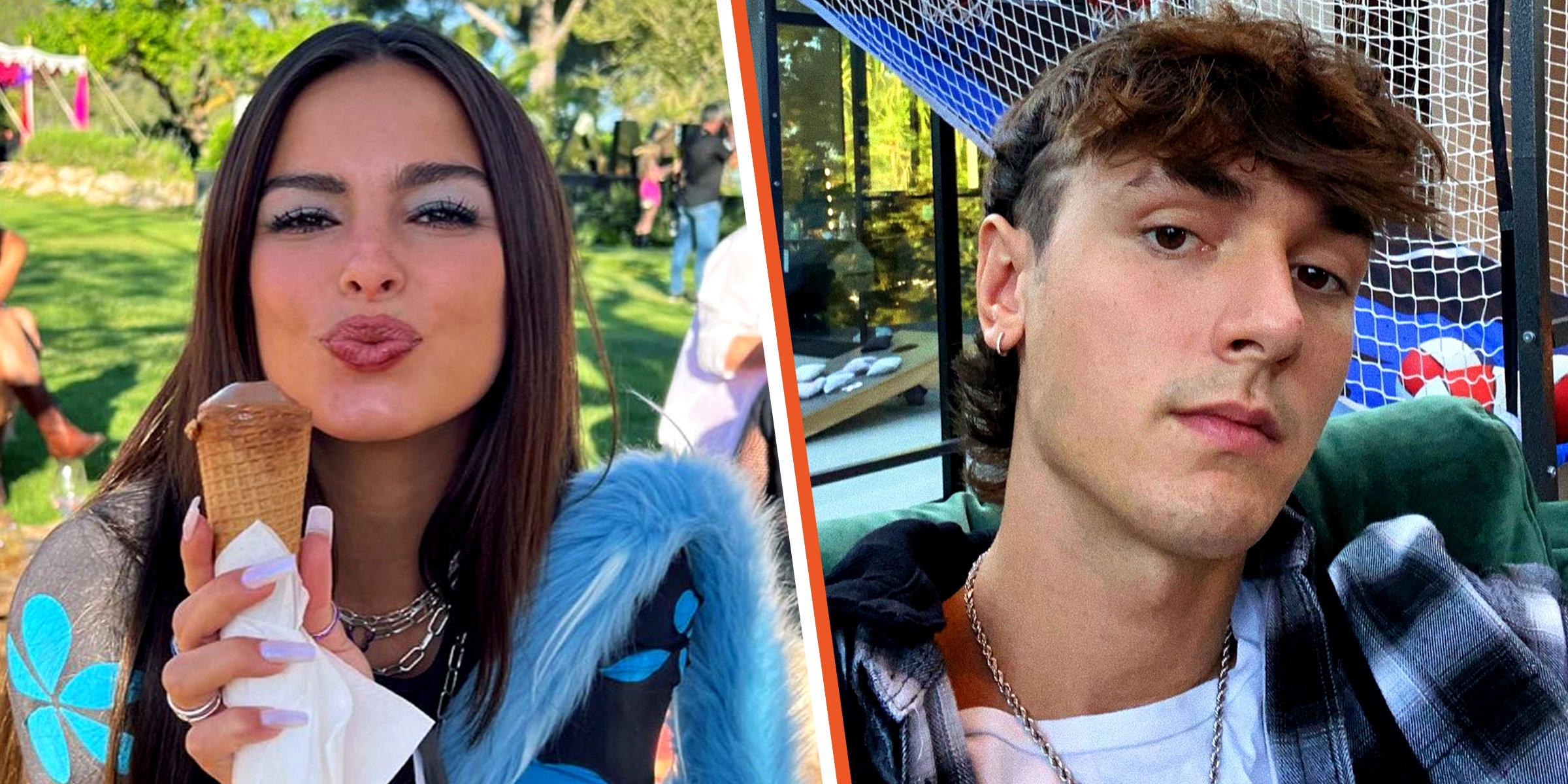 Addison Rae | Bryce Hall | Source: Instagram/addisonraee | Instagram/brycehall
Bryce Hall and Addison Rae's Tangled Love Story

Bryce Hall is a social media personality known for his videos on TikTok and YouTube. The internet star has millions of followers and subscribers and has been linked to Addison Rae.
Bryce Hall, born on August 14, 2000, in Ellicott City, Maryland, has been romantically linked to Addison Rae for a long time. Addison Rae is no stranger to the entertainment industry and is a star in her own right.
She's a well-known American actress, dancer, singer, social media creator, and influencer. She is known for her role in 2021's TV series "He's All That" and was named the highest-earning TikToker in 2021.
The star and her internet celebrity boyfriend have had quite an interesting relationship since they first met a few years ago.
Fall 2019 - January 2020
Bryce Hall and Addison Rae were first linked in the fall of 2019 after the two were seen hanging out together more than once on each other's social media. They later went on to post a photo of them kissing while they were celebrating the New Year in 2020.
After speaking out about their relationship status, Bryce Hall posted a cryptic message on social media.
February 2020
In February 2020, both social media creators released statements that they were not romantically involved but were just friends. Hall took to Twitter that year and shared a post to clarify that he and Rae were not dating.
He further revealed in the tweet that the two were "still friends" and would continue their friendship, and they were still going to hang out, but they won't be doing certain things anymore.
Rae also revealed during an interview with Entertainment Tonight that the two weren't even dating. She stated that they met in October, started spending a lot of time together, and eventually got close and became good friends. The actress also said they were on and off trying to figure it out -- but understood they are better as friends.
April 2020
After speaking out about their relationship status, Bryce Hall posted a cryptic message on his social media. His post revealed that he was missing someone who might be Rae. Later, a TikToker decided to share that Hall is still thinking about his ex by posting a tweet.
June - July 2020
Bryce Hall and Addison Rae started appearing in videos again in June 2020. Despite the posts, the two continued to deny that they were dating, with Rae replying to someone's comment after posting their video on TikTok and denying that they were a couple.
In July 2020, the pair left a restaurant together after having dinner and were reportedly on a date. After the outing, the two still said nothing romantic was happening between them.
August - September 2020
Despite Bryce Hall and Addison Rae posting videos and having dinner together, they continued to play on fans and each other's feelings. Rae posted on Twitter in August and said she was single and "ready to jingle."
She wrote that she couldn't believe Christmas was four months away. Just a few days after Rae's tweet, Hall also posted on his Twitter page that he was single and people should stop asking him.
Rae even opened up to Entertainment Tonight in September 2020 about her split from Hall. The media personality said things were complicated and "confusing" between them at one point, but they had decided to focus on other things in their lives. Hall went on to post another tweet saying that the two were working on themselves and he wished Rae "nothing but the best."
November 2020
In November 2020, the Tiktok stars wore Halloween costumes in a photo they shared on Instagram. They decided to make a video posted on Rae's YouTube channel and confirmed they were dating once.
In the video, they noted that 2020 would be their second Christmas and New Year's kiss together. Rae said:
"We've only broken up one time, and that was because we dated for three days."
Rae said she's finally admitting they dated, but she broke up with him after his "little mishap." She said they were hanging out together and talking daily. The two stopped talking again after Hall's birthday but spoke when he wrote her a letter and bought her a gift for her birthday.
She said it was really "sweet," and they started hanging out again. The pair started dating again after Hall asked her out on October 13 and have been together for three months.
The actress said it would be "interesting to see" where their relationship goes. The clip also showed Rae saying "good luck" to them and expressing that they're going to need it, and the couple ended the video with a kiss.
February 2021
It wasn't long before it seemed there was already trouble in paradise. As cheating rumors started to surround the couple in early 2021, Rae shared some details about what had been happening between them.
Rae told her fans during a chat on Zoom that she and Hall were in a fight and couldn't stay mad at him because she missed him and was in love. She decided not to reveal the reason for their misunderstanding with her fans.
Hall was later spotted hanging out with another girl at Saddle Ranch in Los Angeles. Rae was also reportedly there with someone else, but she and the YouTuber didn't talk to each other.
Hall is even said to have bought flowers for the girl he was with, and Rae went on to post on her Twitter page the next day that she was buying herself flowers. The social media personality did decide to clarify what happened and posted on Twitter that he didn't cheat on his girlfriend.
March 2021
In March 2021, it seemed the couple was breaking up again despite denying it. Rumors about their split started to surface after Hall was said to be cheating on Rae. The 21-year-old star opened up about the talks at the time and said she appreciated the kind words and support from fans and further wrote:
"Sharing my life with y'all makes me happy, but some things I choose to handle offline. When and if I want to share, i will make that decision."
Rae eventually revealed if the two had broken up during an interview. She confirmed that the two were no longer together in a video where she called the social media personality her ex.
May 2021
In May 2021, at the MTV Movie and TV Awards event, Rae passionately kissed her co-star on "He's All That," Tanner Buchanan, right on stage. There were mixed reactions to the kiss; surprisingly, Rae's ex-boyfriend Hall also reacted. Hall had nothing to do but react to the kiss by simply expressing that he was disappointed but was moving on.
May 2022
Over a year after everything happened between Addison Rae and Bryce Hall, the 21-year-old actress opened up about the breakup on her Snapchat series. The social media star started by saying that her split was very public and that it wasn't an easy thing for her to deal with "internally and online."
Rae further stated that it was hard for her to "keep it together" during that time, mainly because she was constantly asked about it in interviews. She continued:
"Everything in my life, I try to do with the best intentions, and people like to think that I have bad intentions or that I'm trying to be evil or hurtful when that's just really not me. People only know so much of me, so they like to assume what they want."
The 21-year-old star's ex-boyfriend happened to respond to Addison Rae's video, shared on an Instagram page. The social media personality decided to compliment his former girlfriend after she opened up about how she felt after the breakup and called her a "beaut."